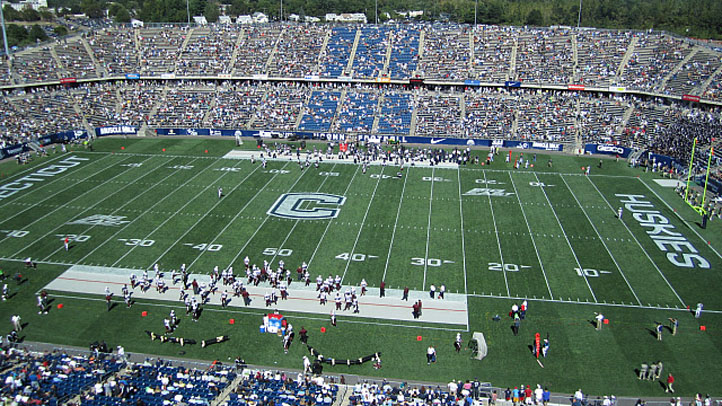 A year ago, there wouldn't have been much in the way of expectations for the Huskies ahead of a matchup with NC State. Now, with a revamped offense, that stout-as-usual defense, and some new-found confidence after blanking UMass 37-0 in the season opener, anything seems possible. Vegas has the Wolfpack favored by just five points which is a moral victory of sorts for a UConn team that went just 5-7 a year ago.

Still, coach Paul Pasqualoni knows that the Huskies will have their work cut out for them, starting with that well-respected defense. They'll face quarterback Mike Glennon, one of the nation's best passers, coming off a not-so-great four-interception effort in a loss to Tennessee last week.

"We're a little more experienced," Pasqualoni said Tuesday. "At the safety position, we played two freshmen as the year went on [last season] and we didn't have any experience at the linebacker position. So overall, we have more returning players. We've been in the system a full year, they know the system better and they know each other better. That to me is the biggest difference."

But Pasqualoni concedes that losing defensive linemen Shamar Stephen and Teddy Jennings is a huge blow.

Meanwhile, NC State coach Tom O'Brien has warned his team about the perils of underestimating the Huskies.

"They're a senior team and they're well-coached," he said according to the News & Observer.

Senior wideout Tobias Palmer has taken it a step further: he's just concentrating on what he can control: himself and his teammates.

"I don't know much about (UConn)," he said. "I (couldn't) care less. I just worry about N.C. State."

The Huskies will face back-to-back ACC opponents, first NC State then it's the Edsall Bowl when they play Maryland in College Park. Pasqualoni was asked about what a good showing could mean for the Big East's football reputation.

"We have so much to get ready for, there's so much to focus on, that to be honest with you, I don't know, I wouldn't waste my time or my energy on that stuff," he said. "My feeling is each week you try to concentrate on your opponent, and that's what we'll do. I don't ever remember saying to these kids: One conference against another, or any of that other stuff. We try to look at the team, the players that they have on the team and what they're doing, and try to figure out a way to be competitive against them, and that's our approach and that's not gonna change."

On Saturday, we'll see how far Pasqualoni and the Huskies have come.