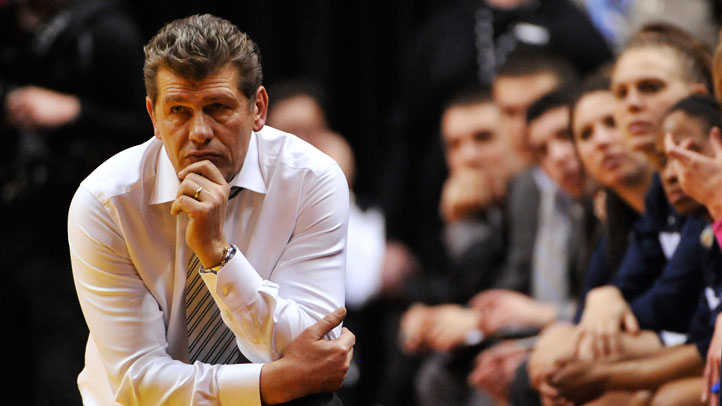 If the men's season is all about managing expectations, the women will face their usual scrutiny. Last season was about adjusting to life after Maya Moore. Tiffany Hayes struggled at times in that role (and understandably so; it was a huge void to fill), and now she's graduated to the NBA, too. Which means that the torch will be carried by Kelly Faris, Caroline Doty, Stefanie Dolson and Bria Hartley while up-and-comers Kaleena Mosqueda-Lewis and Breanna Stewart continue the never-ending supply of supremely talented players to make their way through Storrs.

But coach Geno Auriemma has never been one for hyperbole, at least when it comes to praising his team. After all, he's the guy who tried to convince everyone that last year's club just wasn't that good. Relative to the 2010-11 squad, yeah, he may have been right but both ended up in the Final Four losing to Notre Dame. There are, as the old saying goes, different ways to skin a cat.

This time around, Auriemma has been surprisingly laudatory about the Huskies, perhaps a spillover effect from his infatuation with Stewart, whom he can't seem to say enough good things about.

"If everyone expected us to go to the Final Four and contend for a national championship without Maya Moore, isn't the expectation level this year to go undefeated and win every game by 100," he joked Tuesday according to Associated Press. "So, I might as well say, "Yeah, that's what we're going to do."

And praise for Stewart doesn't stop with the coach. Doty has been impressed, too.

"To have her length and her athleticism, being able to shoot the 3 and having all her options down low, it's unbelievable," she said. "With (our coaches) working with her every single day, she's going to be something very, very special."

It's been a recurring theme, but there are other new faces who could prove to be valuable this season. The only difference is that they'll be new to playing time not new to the roster. Sophomore Brianna Banks arrived at UConn like most before her: with accolades, honors and ability. But sometimes the adjustment from high school to college takes time. Now a year in the program, she appears ready to break out. This hasn't been lost on Auriemma.

"Brianna Banks has changed a lot and I'm really happy with how much she's changed," Auriemma said. "She has taken on a different persona. She really has. And it shows on the court and off the court. She's 180 degrees different than last year. I couldn't be more happy with her progress up to this point."

Ultimately, success will be measured by wins and losses, particularly in March. But we already knew that.