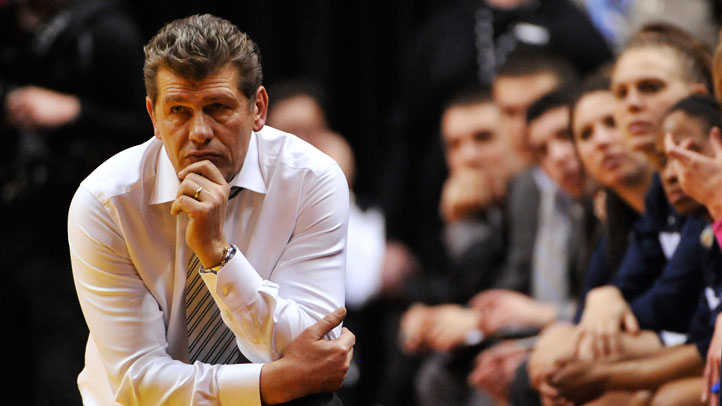 Coach Geno Auriemma loves to publicly point out the shortcomings of his team. But it's never willy-nilly; there's always a method to his madness. And when it comes to his team, especially this year's squad that is without a true star (his words on countless occasions), it's all about motivation.

Sometimes it works (see UConn's run through the Big East Tourney all they way up to the Final Four), sometimes it doesn't (see the four losses, two coming at the hands of Notre Dame, the Huskies' opponent this weekend). Either way, Auriemma's players are well versed in his brand of psychology.

"We're not a team with superstars, we didn't have any pre-season All-Americans so no one really expected us to be as dominant as we have been this year," said guard Bria Hartley, according to the Associated Press. "I think we did use that as motivation a little bit."

Hartley sounds like she's reading right from Auriemma's talking points. But that's sort of the point. Just like political commercials that stretch the truth to stress a candidate's message, Auriemma's monologues with the media are intended accomplish the same results. Whether his players actually believe it or not is another matter, but they've certainly heard it enough to know what their coach is thinking. Either way, after an inconsistent regular season, the Huskies are peaking at the right time.

"For some reason sometime in January and a long time in February, we lost it," Auriemma said. "We stopped getting better. We stopped working at it. We stopped listening. We stopped executing. All of our bad habits and all the things I was fearful of started to rear their ugly heads." The coach now says that his team has improved more in the five days since the loss to Notre Dame and the start of the conference tournament than it had during the past five months.

Does he really believe that? Better question: does it matter?

The Huskies will face the Irish for the fourth time this season. They are 0-2 in the regular season before finding a way to beat Notre Dame in the Big East Tournament finals. The Irish ended UConn's season a year ago too, also in the Final Four. Will this time be different? We know Auriemma will hem and haw but what do the experts think? Here are the ESPN analysts weighing in on the Huskies (via the Courant's John Altavilla):

Carolyn Peck: "The Huskies have talent, toughness and experience. There are no superstars on this team, but have the possibility to have a night when that one person can lead them to victory. UConn's shortcomings are they lack a second post, as they used a four guard lineup all season. Although, Stefanie Dolson has been able to be an anchor and hold down the position on her own."

Rebecca Lobo: "UConn is the only team in the Final Four without a star but the Huskies somehow found their way to Denver. They did it by playing phenomenal defense and sharing the basketball on the offensive end. UConn rediscovered its identity during the BIG EAST Championship and haven't looked back. This could be one of Coach Auriemma's best coaching jobs."

Kara Lawson: "UConn, more than any team in the country, demands precise execution of their opponents. They are a great defensive team because of their effort and accountability. These traits carry over to the offensive end where they understand it takes multiple players to make plays for them to be successful."

Doris Burke: "Without a first team All-American since 2007, they have been consistent in their formula for winning all season. The nation's hardest defense to score against is relentless. Hartley, Hayes, Mosqueda-Lewis and Dolson all must contribute consistently against a complete Notre Dame team."