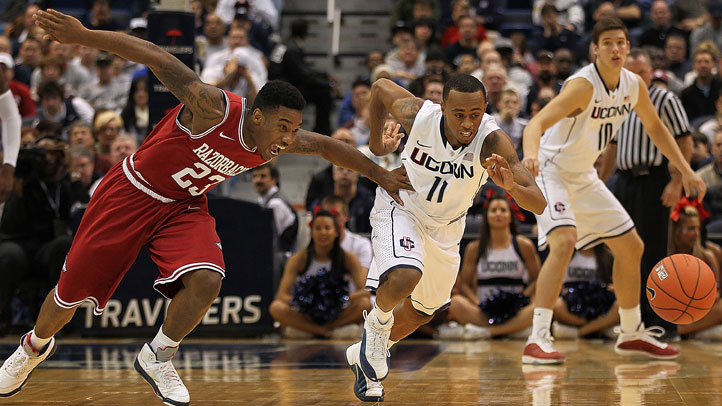 Ryan Boatright didn't step foot on the court for the Huskies until November 26 against Florida State during the Battle 4 Atlantis holiday tournament in the Bahamas. Due to an NCAA infraction that resulted in a six-game ban, that was 15 days after the rest of his teammates.

But the freshman point guard from Illinois hasn't needed long to get up to speed. It's not unusual for young players to have important roles on Jim Calhoun teams -- look no further than Jeremy Lamb and Shabazz Napier a season ago -- and Boatright is the latest example of that.

Against Arkansas Saturday afternoon, Boatright scored 23 points and added six assists as the eighth-ranked Huskies beat Arkansas, 75-62 in Hartford. Lamb and Tyler Olander were the only other UConn players in double-figures (14 and 12, respectively).

"I always got confidence in myself," Boatright said after the game. "I told you last time, I play with heart. I never surprise myself. I came from high school scoring 40 and 50 so I know I can score."

He makes a good point. If you're dropping 50 on high school kids it stands to reason that you can occasionally manage a fraction of that at the next level.

Calhoun featured a three-guard offense for parts of the game and it's fair to say it worked well.

"We've got three quick guards who can all score," said Boatright. "Coach preaches to us about courage and pride. We all got heart. We were constantly saying we need to keep our foot on the gas. Let's keep going and just win. With Jeremy out [with foul trouble] we needed scoring from everybody."

Even Calhoun, who isn't afraid to overstate the negative while downplaying the positive, had only laudatory things to say about Boatright's performance.

"Ryan was pretty special," he said. "He has those Allen Iverson kind of things where his athletic ability just allows him to do some pretty special things that you don't normally see….He does some special things. Secondly, he's not afraid. That's one of the big issues for all athletes, to never have any fear. I don't think he fears making a mistake….Obviously I love that kind of player."

We have confirmation from both player and coach: Boatright ain't afraid. And for freshmen, the mental aspect of the game is a much bigger hurdle than the physical. That's only good news for the Huskies as they prepare to enter the tough part of their schedule.