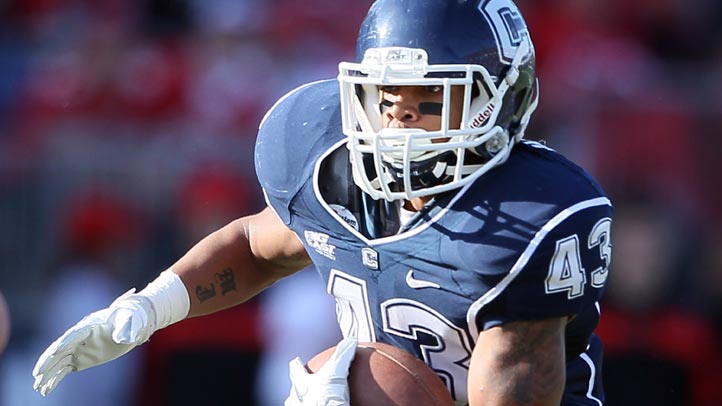 There was a sense of excitement in the moments leading up to the Huskies game against South Florida. New coach, new true freshman quarterback and, hopefully, a new outlook on a dismal season. By the time it was over, the results -- a punchless 13-10 loss -- suggested nothing had changed outside of a suddenly revitalized running game.

But looking beyond the numbers, the Huskies were a different team. Interim coach TJ Weist show energy o the sidelines, and didn't reflexively hang is his head when things went bad. He supported quarterback Tim Boyle who looked every bit the true freshman.

And these are all things that have to happen for this UConn team, which dug itself a pretty deep hole with a 0-4 start before Paul Pasqualoni was fired, if it hopes to turn things around. On paper, there wasn't much to be excited about -- Boyle completed 35 percent of his throws and looked like, well, a kid who was playing in his first big-time college game.

"I didn't want to think about that (nerves) too much," Boyle said after the game. "I just wanted to put my teammates in the best position to make a play. If I had thought about that, it might have gotten into my head a little bit. I just wanted to go out there and play. I wanted to come out with my debut and get the W.

"When it came down to execution, we just didn't do it as well as USF," he continued. "We just came up a little short. I think I did a good job once I got my feet wet a couple of plays. I was pretty poised, a little calm, taking deep breaths here and there and making sure I was OK. There were points where the ball took off on me, that will get fixed. That's a rookie mistake."

And Boyle's right -- he showed glimpses of athleticism and smarts, two traits a coach looks for in every QB.

"I thought Tim stepped up and showed maturity, showed poise, handled the pressure and made some throws and made some good decisions on some of the different looks they gave us," Weist said Sunday, via the Connecticut News.

As for any concerns that Boyle had played himself out of a job, Weist addressed those too.

"He put us in a position to win this game," the coach said. "We'll keep moving forward with him, we'll get him better and he will get better."

At 0-5, the Huskies are playing for pride at this point, but it's also an opportunity to find out what the young players -- Boyle included -- can do. Except Weist isn't thinking that way. This isn't about moral victories and rebuilding.

"We have to win and we have to win now," he said. "We have to play better football. We just have to execute, that's all.

And going forward, maybe Boyle will have something Chandler Whitmer never did: a running game. Lyle McCombs played like it was 2011, rushing for 164 yards on 20 carries, including a 52-yard touchdown scamper in the second quarter.

"I had runs early to build my confidence and the offensive line's confidence and when you get that confidence going early, that's a key factor," McCombs said Saturday. "We ran the ball with confidence and we were physical."

Weist agreed.

"I think it was the guys playing with more confidence," he said. "We changed up some schemes because we did have two weeks (to prepare). We were pulling more guards and more tackles and doing some little things that helped the run game. I think Lyle played better. He had more holes, more creases for him to get through and get into the secondary and we were more in the shotgun, which gives the quarterback more chances to become a threat. That's helps us."

Hopefully, it will help UConn to their first victory of the season. Next up: Cincinnati this Saturday at noon.