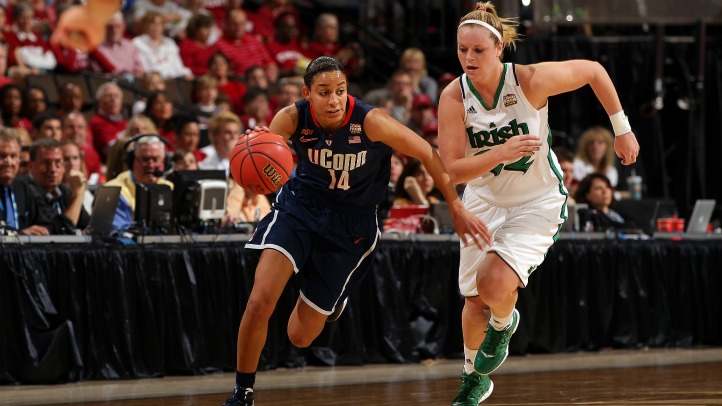 The good news: the Huskies rolled Marquette over the weekend, 85-51, to move to 14-1 and 2-1 in the conference.

The bad news: preseason All-American guard Bria Hartley left in the first half after she turned her ankle. She's doubtful for Tuesday's meeting with Louisville. Making matters worse: freshman Breanna Stewart, who tweaked her ankle in Friday's practice, is also doubtful.

"I'm hopeful that both of them will be back on Tuesday," Auriemma said after the Louisville game. "Some sprained ankles are worse than others. So, we'll see."

Despite the Huskies' fast start, they've been plagued by injuries all season. SNY.com's Carl Adamec writes that five of UConn's 11 players have missed time while recovering from various bumps and bruises: Kiah Stokes (5), Morgan Tuck (3), Hartley (2), Stewart (1) and Kaleena Mosqueda-Lewis (1).

Back in the fall, Hartley was sidelined five weeks (and two games) with an ankle injury. She returned to the court and looked like her old self in no time. Now coach Geno Auriemma faces the possibility of being without two of his top players for a Big East matchup against No. 15 Louisville (14-3 overall, 2-1 in the conference). But unlike last year, the Huskies' bench is plenty deep.

Back in November, after UConn won three in a row in the Virgin Island's Paradise Jam tournament, Auriemma admitted that "Last year, we could only play six or seven guys max because that's all that could contribute to us winning. This year we've got way more than that. People have had to adjust their roles a little bit and it's worked out well so far."

Put differently: even with eight or nine healthy players, the Huskies are still one of the best teams in the country. Whether it will be enough to beat the Cardinals -- well, we'll find out Tuesday.