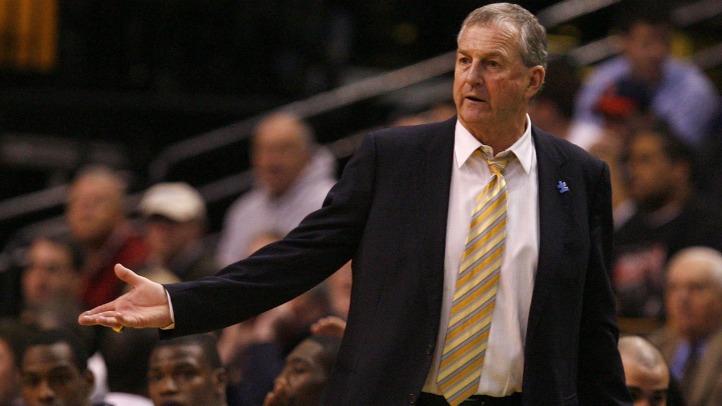 When Jamal Coombs-McDaniel decided to transfer last month, it freed up a scholarship for the 2010-2011 season. In light of recent NCAA sanctions for poor Academic Progress Rates, the Huskies are down to 10 scholarships, which means each is even more valuable now.

Two weeks ago we wrote about possible recruiting targets, transfers Sterling Gibbs and Momo Jones. And Thursday, Jim Calhoun, still being mysterious about his future coaching plans, did say he's still busily recruiting and that "We expect to have another player join the program, hopefully within the next seven or eight days."

Interesting. Another possible target: DeAndre Daniels, a 6-7 small forward who took a post-graduate year at IMG Academy.

Adam Zagoria of ZagsBlog.com writes that "a source inside [Daniels'] recruitment said he had no knowledge of any impending announcement this weekend."

"He could announce tomorrow and I wouldn't be surprised, or he could announce the day before school starts," the source told Zagoria. The source also said that UConn had placed "a couple phone calls" about Daniels, and Zagoria points out what every UConn fan already knows:

"The Huskies would make perfect sense for Daniels. They bring back talented young guards and wings in Jeremy Lamb, Shabazz Napier and Roscoe Smith as well as forward Alex Oriakhi, but could certainly use an agile 6-8 scoring wing to help compensate for the loss of Kemba Walker."

ESPN describes Daniels as "an elite scorer for his size and can hurt his opponents in a variety of ways. However, if he could implement passing to his offensive arsenal and develop some savvy for how the game should be played with other teammates his game would go to another level."

Oklahoma State and Texas are also in the mix for Daniels, but Andy Borman, his IMG coach, told SNY.tv that "we have no comment on DeAndre's recruitment and there is no timetable." That sounds a lot like something Calhoun would say.

As for Momo Jones, Zagoria notes that he was seen Wednesday on Seton Hall's campus, and he will also take official visits to Marquette, South Florida and Pittsburgh.

Dermon Player, a former St. John's and Seton Hall assistant, said several weeks ago that "More than anything it's about [Jones] wanting to live closer to New York and his mother and grandmother." Player recently told SNY.tv via text that "As soon as Momo feels comfortable with who he feels in his heart is where he wants to go, he will pick a school."