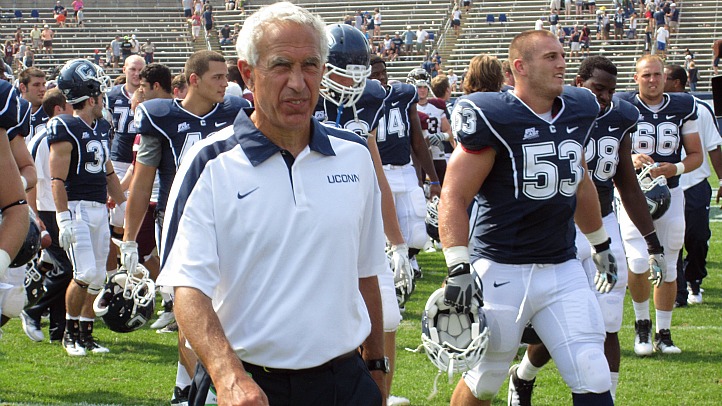 The holiday weekend did nothing to lessen the sting of what happened to the Huskies in Morgantown Saturday. Unlike a season ago, there was virtually no chance UConn would beat West Virginia, and that has everything to do with an inexperienced roster, inconsistent play through the first five games of the season, and a defense that has gone from a strength to a weakness in a matter of weeks.

The Huskies had five non-conference games to start the season and sort things out. It took that long to settle on a starting quarterback, Johnny McEntee, but as it stands, he's the least of their worries. UConn lost to the Mountaineers 43-16, now the 16th-ranked team in the country.

Head coach Paul Pasqualoni has been realistic all season about the expectations for this team, but that doesn't make their current predicament any easier to take.

"Nobody likes being 2-4. That's not our standard, my standard as the head coach, the staff's standard, certainly not the players' standard, certainly not the fans' standard," Pasqualoni said during a Sunday teleconference, according to the Hartford Courant.

"I clearly understand that, but at the same time I see some positive things happening. I'm encouraged by those things. I see some things that have absolutely got to be corrected that aren't, at times, smart things to do and that's very frustrating, especially when you're playing teams that are quality teams, experienced teams and we're inexperienced in some areas and some key areas and we'll keep growing and getting better from that."

To UConn's credit, they stayed with West Virginia for two and a half quarters before a 23-point onslaught paved the way to an easy Mountaineers victory. And while there are no moral victories, it's worth remembering that McEntee will only get better, and the Huskies' secondary has been beset with injuries. It's difficult enough to slow down a Geno Smith-led passing attack when everybody's healthy; it's something else entirely to attempt it with guys playing out of position.

"Defensively we played some new people," Pasqualoni said. "To start two young guys in a game like that on the road against that quality of an opponent, I think you start there. We have a quarterback who's played in five games. This was his sixth game.

"He did some things well and there's some things he's going to really gain that are going to be a benefit that he can do better that he experienced in that game. I think you start there with young guys gaining some critical experience in a big game."
But there's no rest for the weary. UConn hosts South Florida (4-1, 0-1) for Homecoming Saturday.