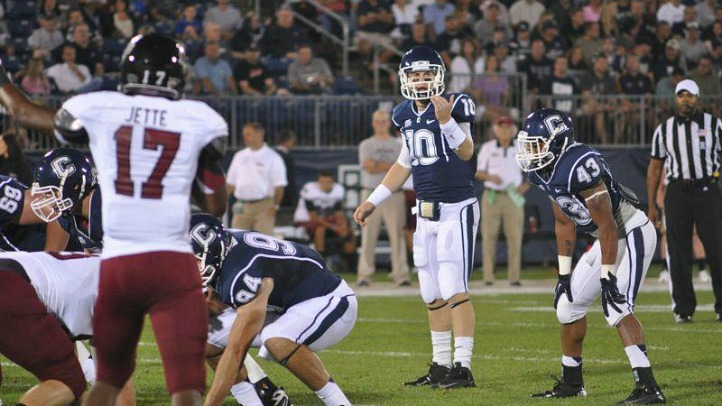 The easy part of the schedule is over for UConn and they came out the other side 3-2. It's not ideal but it could be worse. Either way, they have to take all the lessons they learned the first month of the season and put them to good use, because it's Big East opponents from here on out.

"We know more about our team than we did five weeks ago, obviously," coach Pasqualoni said via the Hartford Courant. "I think we know that we're capable of playing pretty good on defense. But we've got areas that we can continue to improve upon there. We didn't know exactly how comfortable or confident [quarterback] Chandler [Whitmer] would be in regard to fitting in. I think we're seeing steady improvement each week in regard to the production and taking care of the ball."

First up: Rutgers, now ranked 22nd nationally and not only one of the conference's best defenses, but among the best in the nation, allowing 12.8 points per game, good for 10th in all of college football. And while the Huskies' D has had uncharacteristic struggles with consistency the last two weeks, it appears the offense is taking shape. And the timing couldn't be better. Whether UConn is ready to compete with one of the conference's elite teams is another matter, but one we'll have an answer to shortly.

On paper, the Huskies have plenty of offensive weapons; the reality, of course, is that they haven't been able to use them with any regularity this season. But as sophomore quarterback Chandler Whitmer continues to mature, the offense will improve, which, in theory, should be reflected on the scoreboard.

Sophomore running back Lyle McCombs was the offense's biggest threat coming into the season. A 1,000-yard rusher as a freshman, defenses have focused on stopping McCombs in 2012 and they've been relatively successful. In order to get him back on track, offensive coordinator George DeLeone needs utilize his other skill-position players. In addition to Whitmer, that includes a pass-catching corps that's suddenly very deep: wideouts Mike Smith, Geremy Davis, Shakim Phillips, Nick Williams; and tight ends John Delahunt and Ryan Griffin.

Eight receivers have at least three catches, and Davis has emerged as Whitmer's favorite target (19 receptions, 268 yards, 14.1 YPC). We expect that relationship to continue to blossom but the key cog in all this could be Williams, previously considered a dangerous returner, Pasqualoni and DeLeone decided to let try his hand at wideout, too. The results have been Wes Welker-ian. He has 12 catches for 158 yards and when he has the ball there's always the potential for a big play -- just like on kick and punt returns.

In fact, the Huskies should consider targeting Williams more. Slip screens, slants, reverses -- anything that gets him in open space and creates one-on-one matchups. We'd even suggest letting him run the wildcat but we're just happy that Pasqualoni decided to shelf the gimmick during last week's win over Buffalo.