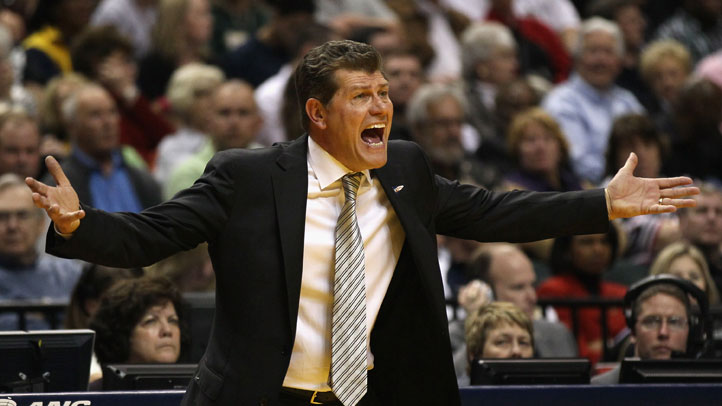 Both Geno Auriemma and West Virginia coach Mike Carey previewed Wednesday's Big East matchup by stressing defense. The final score, 79-60 UConn, wasn't indicative of that (the Huskies have only allowed more than 60 points once this year and it was against Baylor, the only loss on their schedule). The Mountaineers shot 44.9 percent from the field, which couldn't have made Auriemma particularly happy. UConn shot 43.8 percent, but was 51.7 percent in the second half after only managing to convert 37.1 percent of their attempts in the first half.

By the time it was over, Bria Hartley had scored 18 points on 8 of 17 shooting, and the second-ranked Huskies extended their home winning streak to 93 games. But it wasn't as easy as the score might indicate.

"[Playing a team like West Virginia] makes it difficult to get things accomplished on the offensive end," Auriemma said. "We've got to be really tough with the ball and really patient and decisive. We have to make sure that whatever we do, know that there is going to be a lot of physical contact. They did a good job tonight getting us out of any rhythm we wanted to be in."

Put differently: the Mountaineers were extremely physical, which is a hallmark of tenacious defense. And it took the Huskies offense a half to figure out how to attack it.

"I've always said that what makes the game look like its being well played is when you cut and there is some movement," Auriemma said. "Today that was difficult to do, especially in the first half. There were a lot of fouls called on people trying to move to where they wanted to go. Some of that is good defense and some of it is poor execution, but I think you've got to give [West Virginia] credit. If they can [play defense] like that for two halves they've got a chance to win, but fortunately we came out in the second half and were able to create more space."

But West Virginia had their issues, too. Despite converting 45 percent of their looks, the Mountaineers were done in by 29 turnovers.

"We tied up [the game], they were up seven at halftime, then we cut it back down a little bit, then had a couple of turnovers," Carey said. "Our guards are just young. Every time we didn't go over the pick it would hurt us. They would curl it and get inside. We fouled them a couple times coming in there. They did a good job when we were sagging our center and (Asya) Bussie had to go help on the back door. I told the girls, 'We do it in practice. Why wouldn't do it in games?' We've just got to get better. I do think that some of our girls played extremely hard. Connecticut played extremely hard. We've just got to get better as a team."

The Associated Press has more on the Huskies' home winning streak:
Connecticut hasn't lost a home game since a 55-47 loss to Rutgers in the 2007 Big East tournament. The Huskies also have won 57 consecutive Big East regular-season games since losing to Rutgers in 2008. The Huskies are now 164-2 in their last 166 conference home games.
UConn's record is now 12-1 (2-0 in the Big East) and they'll face their stiffest conference challenge Saturday when they travel to Notre Dame in a nationally televised game.