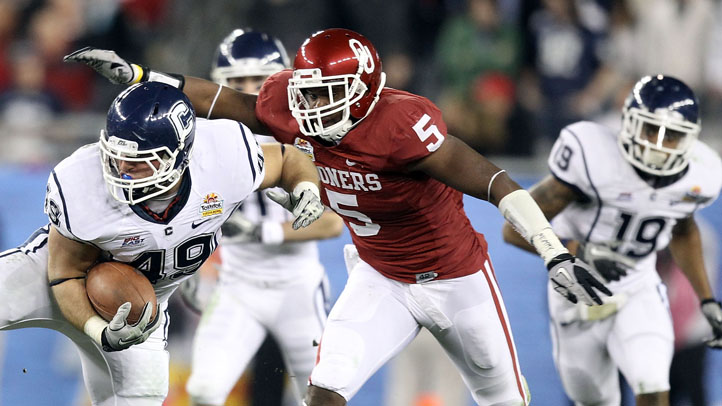 It's easy to forget that Jordan Todman, the 2010 Big East Offensive Player of the Year, wasn't the first UConn player taken in April's NFL Draft. That honor went to the guy responsible for blocking for Todman: fullback Anthony Sherman.

It's not everyday that a fullback is drafted before the big-play running back behind him, but the Arizona Cardinals thought enough of Sherman's skills to take him in the fifth round, a round before the Chargers drafted Todman.

And now the Huskies, just two weeks away from the season opener against Fordham, are looking for their fullbacks to continue their fullback legacy.

Mark Hinkley and Reuben Frank will replace Sherman this season. They understand it's a tall order but sound up to the challenge.

"It's a burden (and) there's a lot of pressure, but I'm trying to learn the offense as best as possible. All he fullbacks are, really," Hinkley said, according to the Norwich Bulletin's Joe Perez. "I'm just putting in work. Anthony Sherman was a good player but we have to focus on what's going on right now."

Frank, considered a more a prototypical fullback, didn't mince words. "I love to hit. I love that a lot," he said. "Whenever you get a downhill player, especially when I can go hit someone or on special teams, I like that a lot."

With a yet-to-be-named starting quarterback, and young and inexperienced running backs, that's exactly what the Huskies will need this season. Helping matters: UConn has one of the Big East's best offensive lines, even if the passing game lacks depth and explosiveness (outside of tight end).

"It's going to be very hard to replace (Sherman), but the beat goes on," Pasqualoni told Perez. "Somebody's got to step up and I like the guys we have on campus, I like the guys we're working with. We lost a great player, but somebody's got to step up."

One way or the other, we'll find out in two weeks.