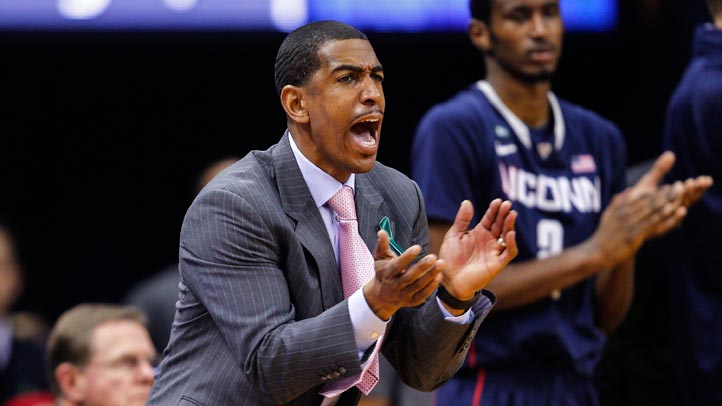 It's unfair to say things have unraveled for the Huskies -- this group has endured a lot the last 10 months -- but it's accurate to point out that this isn't how coach Kevin Ollie wanted to wrap up his first season on the job. The latest setback came in Tampa Wednesday night when UConn, playing without point guard Shabazz Napier who was sidelined with a foot injury, fell to USF, 65-51.

The telling numbers: 35 percent from the field, 15 percent from 3, more turnovers (10) than assists (9), and outrebounded 38-36. All that adds up to UConn's third straight loss, and their fourth in six games.

Sophomore forward DeAndre Daniels led all scorers with 23 points (and added 10 rebounds) but it wasn't enough to overcome the lackluster group effort at the other end of the court.

"We broke down mentally," he said after the game via the Hartford Courant. "We stopped playing defense."

Ollie concurred.

"It was bad defense by us," Ollie said, "and good execution by them in the second half."

In fact, Daniels was the lone bright spot in an otherwise forgettable evening. Napier was out, Niels Giffey's done for the year with a broken finger, and Tyler Olander left Tampa on crutches after injuring his left foot. And those left standing didn't do much to help.

"Ryan (Boatright) had a tough night and Omar (Calhoun) had a tough night," Ollie conceded, "and with Niels and Shabazz out, I need those two guys to make shots."

It didn't happen, of course; Boatright ended with 11 points while Calhoun managed just three. Even putting aside the NCAA sanctions, this is part of the deal for a young program. That doesn't magically help the Huskies out of their current rut, but in the long run these experiences should pay dividends. For now, UConn has one goal: beat Providence Saturday in the season finale and get to 20 wins on the year.