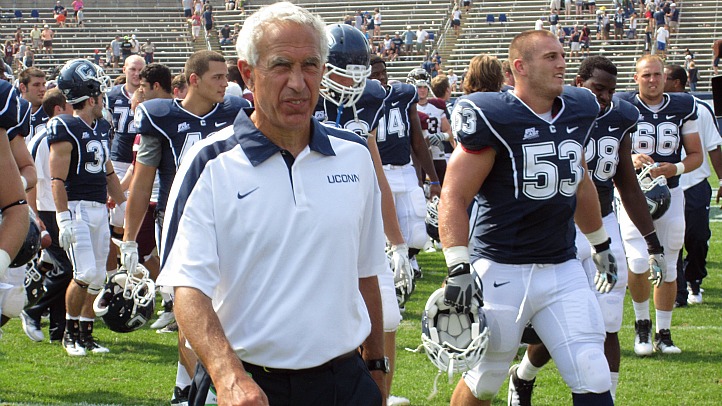 First, UConn defensive coordinator Don Brown was reportedly taking the job as Yale's next head coach. And then he withdrew his name, possibly because the two sides couldn't agree on contract particulars.

Whatever, Yale's loss is UConn's gain. Brown arrived in Storrs from Maryland, which you might remember as the program that Randy Edsall left the Huskies for. On Monday, when it appeared that Brown was gone, Pasqualoni talked about how valuable his assistant is to the program.

"Don's obviously an outstanding coach and an outstanding guy so you hate to lose a guy like Don Brown, certainly," Pasqualoni said according to the Hartford Courant's Desmond Conner. "But at the same time, we understand it's a head coaching position and it is at Yale, which obviously is a very prestigious place. He's worked there so he's very familiar with Yale.

"They obviously have interest in him. They know him well, so if at the end of the day it's something Don feels would be good for his career and his family, I certainly would not tell him not to go, but at the same time I'd hate to see him go. I think he's an outstanding coach and done a great job everywhere he's been and obviously would like to have him back for the second season. If that doesn't happen, then we're going to move on as fast as we can and move forward."

Brown arrived at UConn with a defense that already had something of a reputation for its tenacity. Still, what he accomplished last season was impressive. The unit finished fourth in the nation against the run though their biggest weakness -- and one that cost them several games -- was their inability to defend the pass.

Still, Brown has the respect of his players and that's as important as the actual Xs and Os.
ESPN.com Big East blogger Andrea Adelson points out that Brown's return means that the Huskies avoid having their third defensive coordinator in as many years, which is good new for a group that returns many of its starters. And then there's this, from SB Nation Huskies blogger Andrew Porter who writes:

"When Randy Edsall left for Maryland I spent more than a few days reading our Maryland blog Testudo Times, and there was one constant in each and every post, whether it was pro- or anti-Edsall: keep Don Brown. So I was naturally delighted when Paul Pasqualoni started off his career as a Husky by poaching Brown from the Terps."

And now it appears that Brown will be back in 2012.