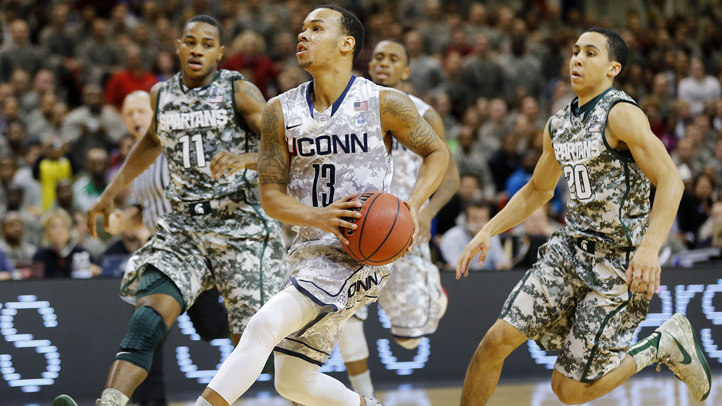 After an emotional win over No. 14 Michigan State last Friday, perhaps the biggest issue facing this young Huskies team was letdown against Vermont on Tuesday night. Didn't happen. In fact, UConn looked like, well, Jim Calhoun's UConn. They won by 18, led by nine at the break, and put on the type of defensive show they'll need going forward.

"This was a grind-it-out game," coach Kevin Ollie said via the Hartford Courant. "I wasn't subscribing to the excuses, jet lag, coming back from Germany – no. We're subscribing to playing basketball the right way."

And that includes the aforementioned defense.

"We're going to win the Connecticut way," Ollie continued. "Defense first, then we'll go on the fast break. And we're going to rebound better."

By the time it was over, Vermont out-rebounded UConn 39-32 but the Huskies held the Catamounts to 30 percent shooting from the field and 17 percent from behind the arc, and had nine steals to go along with 16 turnovers. Vermont also didn't have a scorer in double-digits. It's a style that's carried over from the Calhoun era but Ollie appears to have taken it to another level, especially when you consider he's without a presence in the middle like Andre Drummond or Alex Oriakhi.

Either way, Vermont coach John Becker was impressed:

"They're real physical," he said. "It's hard to get anywhere [on offense]. It seems like you're bumping into people all over the place out there."

And that's not by accident.

"We just played through every possession," Ollie said. "Our defense was great. To hold a team like this to [30 percent] is absolutely wonderful. They followed the game plan to a T. Boatright got it started with his pressure in the first half."

On offense, guard Shabazz Napier led all scorers with 13 points and freshman Omar Calhoun added 12. R.J. Evans had 11, while Tyler Olander and Ryan Boatright finished with nine each.

"We have a unique offense," Napier said, "because everybody can score."

But any sustained success for the now-23rd-ranked Huskies starts with the defense. So far, so good through two games.