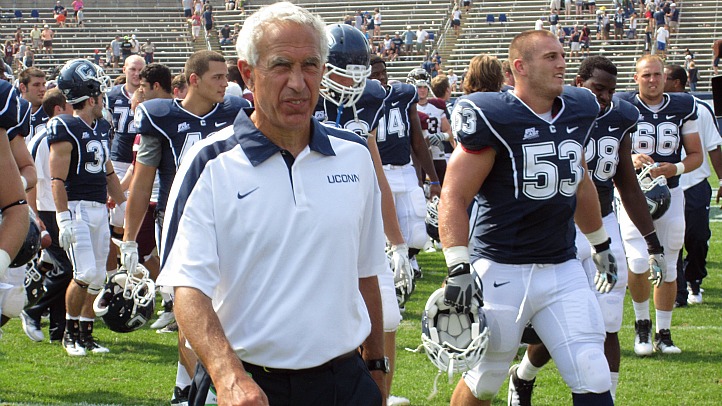 Midnight Madness couldn't have come at a better time for the Huskies football team. Midway through the season, they're 2-4 and fresh off a convincing loss at West Virginia. Perhaps it's best Paul Pasqualoni's team prepares for the second half of the season in relative quiet, as fans and media are distracted by thoughts of defending national titles and Andre Drummond.

While it might help to lessen the pressure during the week, the spotlight returns Saturday afternoon when the Huskies take the field, this time to face Big East foe South Florida in UConn's homecoming game. Through six games, there are any number of factors you can point to as the reason for the slow start: inexperienced quarterback play, inconsistencies along the offensive line, injuries on defense. You name it and the Huskies, at some point, probably have been afflicted by it. But here's the thing: it's football. So has every other team on UConn's schedule.

One area the team desperately needs to see improvement is with their young wide receivers. Way back in April we wrote about freshmen Tebucky Jones Jr. and Geremy Davis playing well enough to make an impact this fall.

So far it hasn't, though it's not from lack of effort. The two have combined for eight catches for 80 yards and are still looking for their first score. So what happened?

"I basically have to consistently focus on technique and continue to read defenses throughout the week and get more mentally prepared for the game," Jones, who has four catches for 38 yards and a long of 17, told the Hartford Courant's Desmond Conner.

The Huskies had three wide receivers transfer before the season and their best pass-catcher, Mike Smith, was ruled academically ineligible over the summer.

"I think a little part of it is they're still young," receivers coach Matt Cersosimo told Conner. "I'm not making excuses for them because they have to grow up in a hurry. They really do. But I think when they're given an opportunity they have to make the most out of them. I talk to them about that all the time. I know [offensive coordinator George DeLeone] and Coach [Paul] Pasqualoni have been talking to them about it as well; seize the opportunity you get which will lead to more opportunities."

There used to be a time when it took a wide receiver two, maybe three years to get comfortable in a new system. Now those expectations have been accelerated, especially in Storrs where there is a need for playmakers on an offense that lacks explosiveness. But as often happens, pressure can weigh on young players and Davis and Jones haven't been immune. Both have struggled with dropped passes this season.

"I know I had an off game against West Virginia," said Jones. "I'm trying to put it behind me but my lack of focus and concentration got the best of me that day. That was my first game playing in that crazy atmosphere but in a big time game like that I have to come up with those plays. It was just lack of focus and concentration."

In years past, a young player wouldn't be in that position; now it's commonplace, which means you have to be willing to accept the growing pains as part of the process.

"The good thing is they're always playing hard and with the effort you want to see," Cersosimo said. "There's never been a situation where we've been disappointed with the effort. You see them make good blocks in the running game or the passing game that might go unnoticed by the casual fan. In the passing game, you see some of the dropped balls, not being technically sound in the route running — those are glaring mistakes because the spotlight is on them, like a defensive back when he gets beat deep. They have to get better at that and they will."

While the going is rough now, hopefully the pay off will be worth it. The only question is whether we'll see glimpses of what Jones and Davis can go this season, or if we'll have to wait.