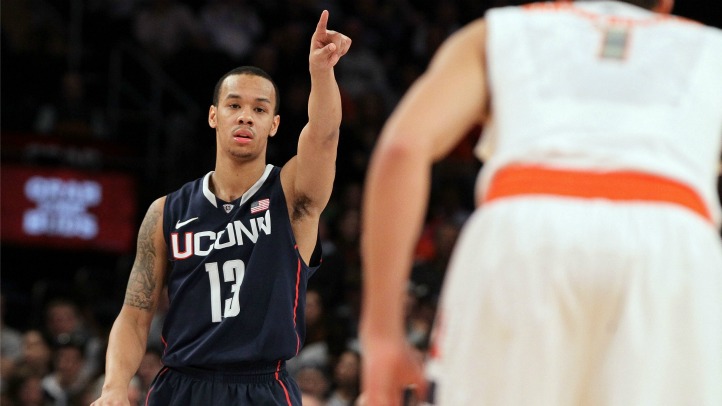 The Huskies have had a bumpy ride to the ninth seed in the South Region of the NCAA Tournament. Two weeks ago, a lot of people had written them off, but a late-season mini-surge that included winning three of four, helped get them off the bubble and into the Big Dance.

But the good news is fleeting; UConn faces Iowa State, one of the country's best three-point-shooting teams, on Thursday, and if they get past the Cyclones they'll have the honor of playing the tourney's top seed, Kentucky. Given where this team has been this season, hard is the only way they seem to know how to do it.

It started early, when the NCAA forced freshman guard Ryan Boatright to sit out while they conducted an investigation into his eligibility. They forced him to the bench later in the year and by the time it was over, he had missed nine games. Coach Jim Calhoun missed three games to begin the Big East schedule as part of NCAA sanctions for recruiting violations. He then missed most of February with back issues.

The players that remained were extremely talented but young and inexperienced. And it showed. Last season, Kemba Walker served not only as the team's leading scorer but also their inspirational heart and soul. Now that task has fallen to sophomores Jeremy Lamb and Shabazz Napier. Both are still growing into the role; Lamb is quiet and unassuming, Napier is the exact opposite, and both are … well, still really young. And that reality leads fans to inevitably wonder if Napier can ever evolve into that guy.

In Dom Amore's daily mailbag post on his Huskies blog on the Hartford Courant website, a reader admits that Napier has "done some great things this year, however he's totally unpredictable and does not bring the stability and smarts that a good point guard needs. It seems like he's too concerned about being 'flashy.'"

It's an understandable concern and Napier's decision against West Virginia in the final seconds of overtime in the conference tournament was a microcosm of what the fan was talking about. Napier had been getting into the lane all afternoon, but with the game tied and the clock winding down, he remained at the top of the key uninterested in driving to the basket where plenty of good things can happen (dish to an open teammates, draw a foul, make a layup). Instead, he settled for a contested 25-footer that had no real chance of going in.

Amore spoke to the process all players go through, and Napier is no exception.
"Napier is a sophomore, in his first year starting in this role, and he is not as much of a finished product as many of us, myself included, thought back in October. It really shows up because UConn has faced a lot of teams with senior point guards. Napier is going to need more time and game experience, and work on becoming more disciplined and more patient. He is also inexperienced at asserting leadership, and has probably learned some by trial and error (see his post-Marquette rant). This is something for which one goes to college."

Amore rightly points out that the UConn coaches "never had a choice but to stick with him this season," but it's all part of growing up. That's a lot of what college (not just college athletics) is about. "You just have to take the good with the bad," Amore continued.

Hopefully, there will be more bad than good when the Huskies begin tournament play this Thursday. Because they're going to need it.