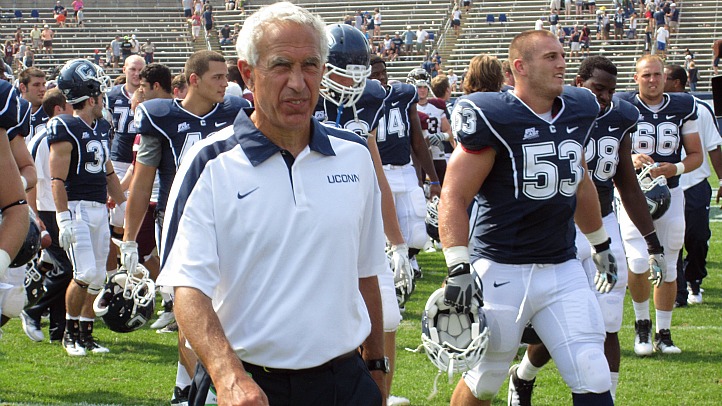 The Huskies had last week off to get healthy, tweak the game plan, and get their mind right for the biggest game of the season: Saturday's matchup against No. 19 Louisville. UConn snapped a four-game losing streak on November 9 when they beat Pitt, but this is different.

The Cardinals, 9-1, have scored 30 points in six of their nine victories and are 37th in the country in points scored. If the Huskies are going to have a chance, the offense will need to continue what it started against Pitt. Namely: getting first downs and scoring points, something they have struggled with most of the season.

Because if UConn's defense plays like, well, UConn's defense, there's a chance for the upset. Syracuse dropped 45 points on Louisville two weeks ago to give them their only loss, and the Cardinals' defense can be a liability.

There's also the issue of Louisville looking beyond UConn to Rutgers, currently the Big East's No. 1 team.

"What's important now is we have two games left. This is a two-game season and our players understand that," said Louisville coach Charlie Strong (via Yahoo.com).

"I told them, 'Guys, I know this. We go to Syracuse and we got our butt kicked in. Still though, you have to beat Rutgers to go win it.' So, your goal is still there. Whatever is in front of us is still there. It's all about taking care of Connecticut. Let's not worry about Rutgers."

The Huskies, meanwhile, have more modest goals. Winning the conference is obviously out of the question but a bowl berth is still very much a possibility.

"It's big," tight end Ryan Griffin said of qualifying for a bowl (via the Connecticut Post's Chris Elsberry). I think that's the only motivation at this point that we're holding on to," senior tight end Ryan Griffin said Tuesday at the team's practice facility. "We're a desperate team and we need these last two wins to get to a bowl and make this season a success. One of the goals that we've been talking about all year is making a bowl, so it's huge for us."

Elsberry writes that if the Huskies win out they'll be in the running for one of the Big East's bowl tie-ins, which include: the Russell Athletic Bowl, the Belk Bowl, the New Era Pinstripe Bowl, the BBVA Compass Bowl, the Auto Zone Liberty Bowl or the Beef `O' Brady's Bowl

It ain't the Fiesta Bowl but this ain't the 2010 team. Either way, fun starts Saturday at noon.