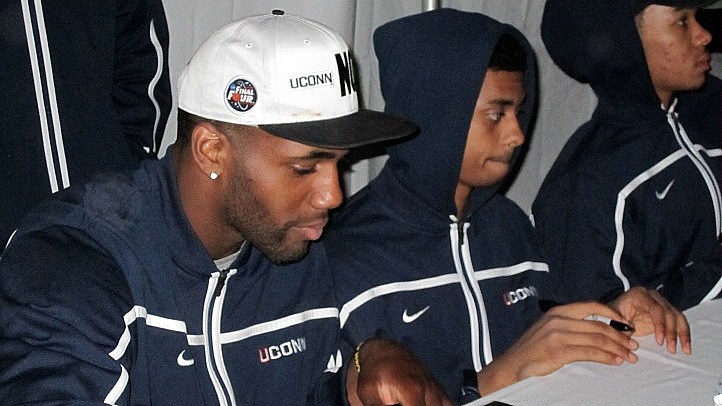 The lesson, we suppose, is that preseason polls don't mean much. In 2009, the Huskies were ranked third in the Big East and went on to have a disappointing season. A year ago, UConn fell to 10th, and played like a middle-of-the-pack conference team before catching fire the last six weeks of the season, reeling off 11 wins in a row, including the Big East and National Championships.

So while the release of the 2011 preseason poll signifies that basketball is almost here, it's probably not worth much more than that. Either way, here goes: the Huskies, as voted on by the Big East media, are picked to finish second behind Syracuse. The one-point margin separating the two teams was the closest finish in the 20-year history of the media polls.

"It was really difficult for me to pick the No. 1 team this year simply because the margin between Connecticut and Syracuse is so slim,'' ESPN college basketball writer Dana O'Neil, who put the Huskies at the top of her ballot, said (via the Syracuse Post-Standard). "To me, both look like Final Four teams. Connecticut edged out Syracuse only because of the experience that lineup gained through last year's national title run."

(You can see all the predictions, 1-16, here)

Expectations for the Huskies were low in the weeks following their national title. Kemba Walker declared for the NBA, the program lost three scholarships because of NCAA sanctions, their sixth-man was arrested on drug charges before eventually transferring, and coach Jim Calhoun was noncommittal about returning for another season.

Then, as the summer progressed, things came together; Jeremy Lamb excelled with the U-19 U.S. National Team, Calhoun landed key recruits for this year (DeAndre Daniels) and next (Omar Calhoun) ... and then Andre Drummond happened. Which tilted the balance of power back toward Storrs.

Clearly, not everyone felt similarly.
"To me, Syracuse brings back the most tournament-ready team in the entire conference,'' Brendan Prunty of the Newark (N.J.) Star-Ledger said. "Yes, the Orange made an earlier-than-expected exit in the NCAA Tournament last year, but with Scoop Jardine, Kris Joseph and Brandon Triche returning, that's about as solid of a nucleus as a team can get in this league. Once again, UConn and Louisville are talented, but there's a large amount of underclassmen on those squads.''

The Huskies were also well represented on the preseason individual honors. Lamb was a first-teamer (joined by Pitt's Ashton Gibbs, Syracuse's Joseph, Notre Dame's Tim Abromaitis and Marquette's Darius Johnson-Odom), and Alex Oriakhi and Drummond also received votes. Lamb finished second in Player of the Year voting behind Gibbs, and Drummond received 12 of 16 votes for Rookie of the Year.