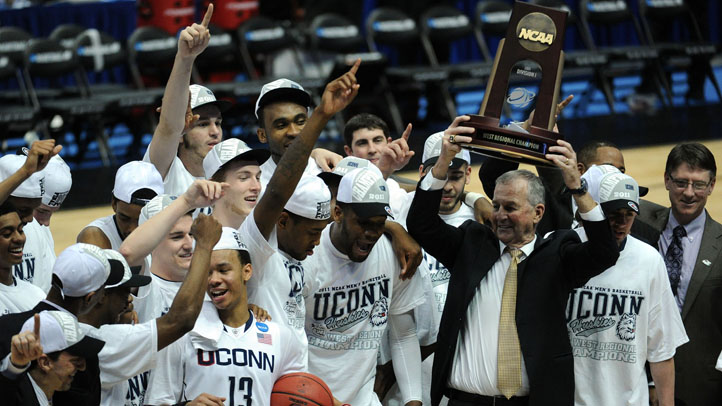 In three weeks, when the Huskies' kick off the 2011-12 basketball season at Gampel Pavilion against Columbia, none of this will matter. But now, with no real basketball to occupy our time, it's all we have.
With the disclaimer out of the way, to the news: UConn is ranked No. 4 in the ESPN/USA Today preseason poll. We'll say here what we've said previously about preseason polls: they don't mean much, now or in the future … but that doesn't mean we won't study them like a treasure map all the same.

Not surprisingly, North Carolina, which returns all five starters, is No. 1, followed by Kentucky and Ohio State. Syracuse, picked to finish atop the conference by Big East writers earlier in the week, is No. 5 in the ESPN/USA Today poll. The other Big East schools in the top-25 include: Louisville (No. 8), Pitt (11th), Marquette (21st) and Cincinnati (22nd).

It goes without saying but we'll repeat it here anyway. Coach Jim Calhoun doesn't pay preseason prognostications any mind, and he makes sure his players understand that, too.

"I keep telling our kids, 'we're not defending national champions,'" Calhoun told reporters at Big East Media Day this week (via the Hartford Courant). "We're not defending anything. We won last year, no one can take it away from us. What we are is one of any number of teams with a chance to win this year."

In case you need more proof: A year ago, the Huskies began the season unranked. We seem to remember things working out pretty well for them.

In other early season news, the VERSUS network will air the Battle 4 Atlantis tournament taking place in the Bahamas. The Huskies face UNC-Ashevile Nov. 24 at 7 p.m. ET, and Central Florida or College of Charleston the following day.