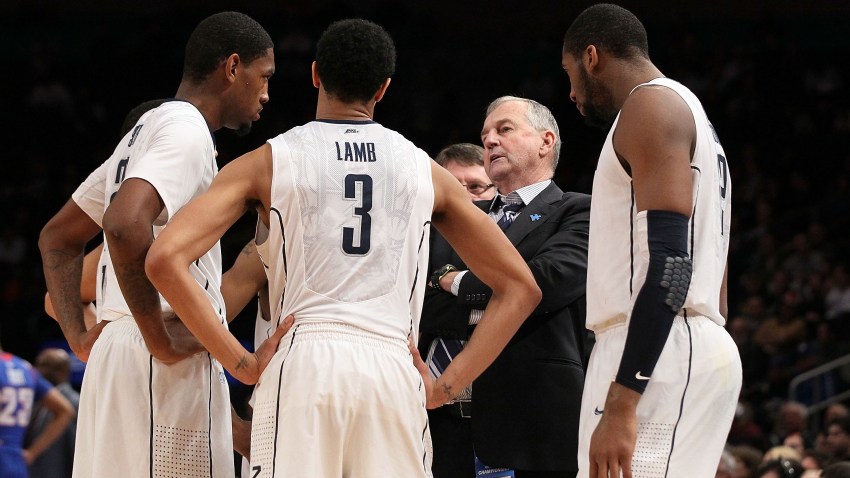 The 2011-12 season is officially over and the Huskies can turn the page on a disappointing five months that could ultimately leave them looking completely different next fall. Alex Oriakhi is already gone and Jeremy Lamb and Andre Drummond might not be far behind. And then there's 69-year-old coach Jim Calhoun, who could choose to retire after missing a month with chronic back pain and another three games as part of an NCAA penalty for recruiting violations.

And unlike last year, when the Huskies had Ryan Boatright, DeAndre Daniels and Andre Drummond as incoming freshmen, as it stands, there's only one player currently in the 2012 class. But he's a good one -- Omar Calhoun, who despite UConn being ineligible for the 2013 NCAA Tournament, still plans to come Storrs.

Over the weekend, Calhoun, a senior at Christ the King High School, played on the East squad in the second annual All-American Championship in New Orleans. The showcase included the nation's best player, Nerlens Noel, but it was Calhoun who shined. Details via the New Orleans Times-Picayune:
In the first game of the afternoon doubleheader, Noel had six points and six rebounds as his East squad defeated the West 84-72 behind a dominating performance by East MVP Omar Calhoun, a Connecticut signee who hopes to contribute to the Huskies next season.

"My hard work is paying off," Calhoun said about his 26-point performance, in which he was 8-of-12 from the field and 10-of-11 from the foul line. "Everyone on the court today was a competitor, so it felt good (to be MVP)."
The Huskies' basketball future is filled with uncertainties at this point; in addition to possibly losing three-fifths the starting lineup, the program is currently ineligible for the 2013 Tourney, which makes it even more difficult to recruit. The latter could change when the NCAA meets in the coming weeks and months but for now, everything's up in the air. But it could be worse: in light of recent developments, Omar Calhoun could have chosen to back out of his commitment.