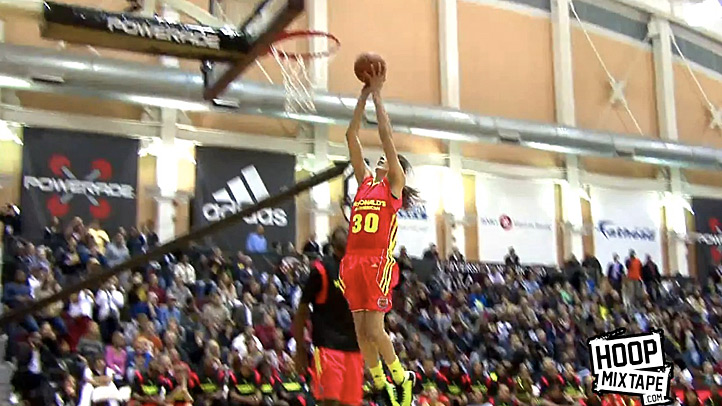 We've been talking about Breanna Stewart, currently one of the nation's best high school basketball players, for almost a year. She's headed to UConn in the fall and coach Geno Auriemma is already speaking in revered tones about the 6-4 senior.

"She has something a lot of kids don't have," he said back in November. "She has an incredible competitive spirit about her. She is one of the greatest competitors I have ever seen. "Maya Moore was a competitor. Diana Taurasi and Jen Rizzotti were competitors. Swin Cash was a competitor. We've had a ton of them here. This kid is in the mold of the best competitors we've ever had at UConn in how hard she plays, how great she wants to be, how much she wants to impact the game. And she's just a young kid who is learning. Based on her high school career, she's as good as any recruit we've ever had at UConn."
Praise from Auriemma doesn't get any more effusive than that. Then again, Stewart appears legit. Earlier this month, she was named the Gatorade National Girls Basketball Player of the Year and has been described as "an electric baseline-to-baseline player by ESPN.com.

And Glenn Nelson, founder of ESPN HoopGurlz, continued with the laudatory observations: "The last college prospect we've seen with her balance and wingspan, and ability to impact the game at either end, in a variety of ways, was Maya Moore. Stewart really has a chance to be the next great player at Connecticut. Considering her history-making international experience, she has had an unprecedented high school career. And on top of everything, she is as humble and unassuming as they come, rare qualities in what can be a look-at-me generation stoked by social media and the instant adulation that comes in sports."

Oh, and one more thing: she can dunk. Visual proof from the McDonald's All-American Game Jam Fest:



Details via Syracuse.com: "The effort earned a perfect score of 140 and propelled the 6-foot-4 Connecticut recruit into the final, where she was hoping to become the first girl since Candace Parker in 2004 to win the showcase event.

"Stewart, however, missed on her next four attempts and the event was won by Shabazz Muhammad, the consensus boys player of the year out of Bishop Gorman High School in Las Vegas."

All in all, still a pretty good showing for Stewart.