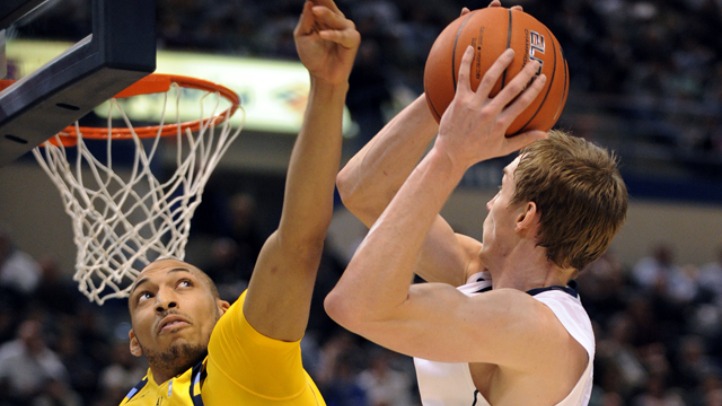 Shabazz Napier said he was happy to get back to Storrs after a whirlwind start to the season -- first Germany then the U.S. Virgin Islands -- that saw the Huskies crack the top 25. They returned to Gampel with a 4-1 record and looking to regroup before facing NC State in Madison Square Garden next week.

First up: Stony Brook.

UConn looked sluggish for most of the afternoon but by the time it was over they won easily, 73-62. But it was anything but easy until midway through the second half. The score was tied at 39 with just over 11 minutes to go, and that's when the Huskies finally warmed up. They converted their final eight attempts from behind the 3-point line -- good for a 26-to-8 run -- including a Napier four-point play that gave UConn a 14-point lead with four minutes to go.

Niels Giffey came off the bench to score a career-high 15 points (including nine in the first half), freshman Omar Calhoun was good for 14 and Napier added 19. DeAndre Daniels and Tyler Olander had six rebounds each.

While the Huskies move to 5-1, issues remain. They were out-rebounded 38-35, and they shot 32 percent in the first half. Against Stony Brook that's not a problem. Do that in the Big East and you head to halftime down 20. (On the upside: the Huskies rallied in the second half, shooting 64 percent from the field and a blistering 73 percent from behind the arc.)

So yes, there's work to do, but we knew that coming into the season. Through six games, Kevin Ollie has already exceeded most folks' expectations but he won't get a new contract based on his record in November. But if the next four months are anything like the first three weeks, he'll be at UConn for a long time.

Let's not get too far ahead of ourselves, though; first things first: the Huskies face New Hampshire this Thursday.