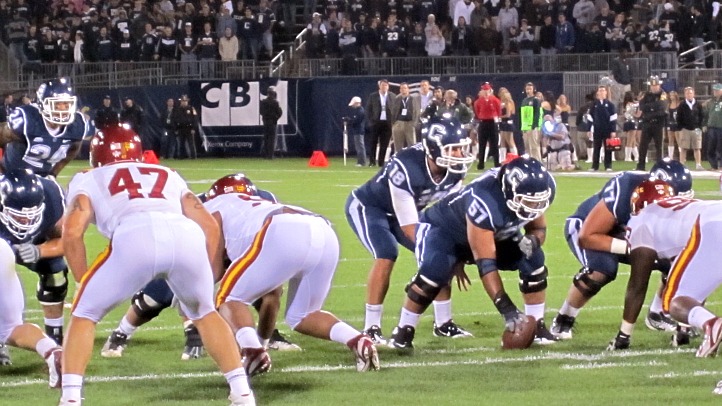 With all the talk about who will play quarterback, we've neglected the other 10 offensive positions. Head coach Paul Pasqualoni has been noncommittal about his long-term QB plans pretty much since the spring, but when the Huskies face Buffalo Saturday night, they'll do it with a rejiggered offensive line.

Interestingly, the group was considered one of the Big East's best heading into the season. Here's what ESPN.com's Big East blog said in June about the unit they ranked third behind Syracuse and West Virginia:

"The strength of this unit is at tackle and center, where the Huskies return first-team All-Big East selection Mike Ryan (20 career starts) and Adam Masters (18 career starts). Moe Petrus, a second-team all-conference pick, has 39 career starts. Their experience should help along the guards -- nobody on the roster has started a game at the position. The good news is that Gary Bardzak does have starting experience, but it came at center."

Now, according to TheDay.com, the depth chart looks like this (though we suspect it's still written in pencil with a huge eraser attached to it): "[For Buffalo], Mike Ryan has moved from left tackle to right tackle, while Jimmy Bennett has moved from left guard to left tackle, and Kevin Friend goes from right tackle to left guard."

Masters, who played tackle in 2010, has manned the right guard position this season. While the idea of getting the five best linemen on the field is laudable, it won't magically fix a sputtering offense. Mostly because there will be an adjustment period for the front five, too.

"It's hard to move from tackle to guard and it puts you a step behind," UConn senior center and captain Moe Petrus said Tuesday, via TheDay.com. "We had a few missed assignments that were obviously the result of different things, a change of position. Guys made mistakes. They know it and they know how to correct it."

Lyle McCombs' impressive start aside, the offensive production through three weeks leaves plenty of room for improvement. The running game is averaging 3.4 yards per carry, and the quarterback has been sacked eight times.

Just one more thing for the Huskies to sort out this weekend in Buffalo, though better there than in a conference game.