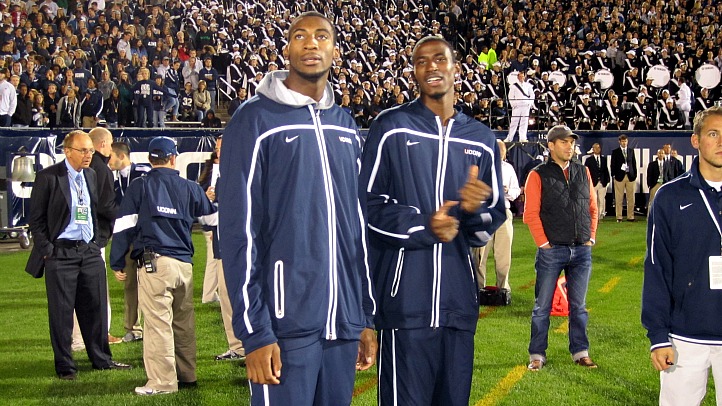 On Thursday, we wrote about UConn: Bubble team, even after a convincing win against a hapless DePaul outfit. We're at the point in the season where this isn't news, but instead becomes a real concern. The Huskies have been underwhelming, partly because of youth and inexperience, but also because coach Jim Calhoun has been forced to miss time while he deals with back trouble.

The Hartford Courant's Paul Doyle writes how, in the span of four months, our perceptions of the Huskies have changes dramatically.

The list includes Andre Drummond, Alex Oriakhi, Jeremy Lamb, Ryan Boatright and Calhoun.
* Drummond remains a likely lottery pick, but he hasn't exactly dominated.

* It appears [Oriakhi] has struggled to co-exist with Drummond, although associate coach George Blaney has said that isn't a problem. Whatever the reason, Oriakhi (6.7 points, 5 rebounds) has seemingly regressed.

* The numbers say Lamb is producing — 17.2 points a game, up from 11.1 as a freshman. But there have been nights when Lamb's jump shot has vanished and he seems to lose confidence.

* [Boatright] was the perfect third guard behind Lamb and Shabazz Napier and even drew comparisons to Kemba. Unfortunately for UConn, the NCAA has interfered with Boatright's season.
So all that happened.

It doesn't absolve the Huskies of playing poorly for stretches this season, but it does help explain what was going on. Still, through all the disappointment there are bright spots. Drummond has flashed moments of brilliance and Boatright, when on the court, has truly been special player.
Then there's the other freshman, DeAndre Daniels, who arrived in Storrs with an impressive high school resume and some lofty expectations. Not surprisingly, like most players making the transition to college, he struggled to find his way. He admitted to being frustrated with his role coming off the bench and playing limited minutes but said that he never had second thoughts about coming to UConn (Daniels de-committed from Texas).

"I never had doubts like that," he said, according to the Courant. "I just stayed positive and kept working hard. Coach [Kevin] Ollie talks to me every day. He says, stay positive, keep praying and everything will be all right."

Daniels, who saw action against DePaul and for the first time since January 14, converted a three-pointer.

"That felt good," he said. "When I made the first one, I was like, 'Thank God.' I'm in the gym every night and I've been saying to myself, 'Why aren't they going in in the games?'"

By the time it was over, Daniels had scored 8 points in 16 minutes. It's not earth-shattering but it's a start.

"He'll deserve more playing time, based on his play," said associate head coach George Blaney.
At this point, there really is no downside.