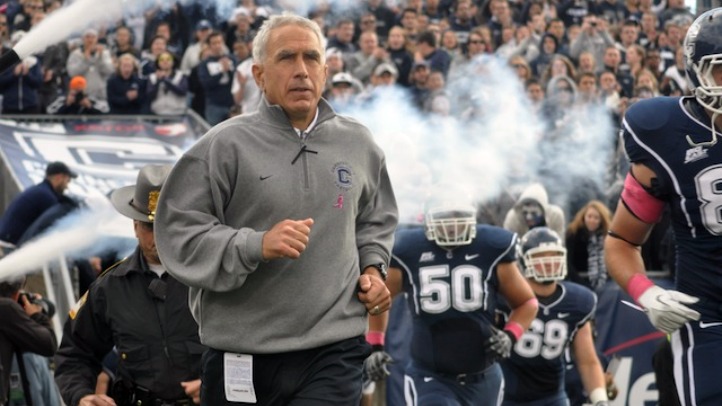 Some three months after Paul Pasqualoni wrapped up his first season as UConn's head coach, a 5-7 effort filled with both glimpses of promise and stretches of inconsistency, the Huskies are back at it. Tuesday was the start of spring practice and with it, a clean slate with some new faces -- with more to come over the summer.

For now, though, the next few weeks is a feeling out process, for both the players and the coaches. There's the quarterback situation, obviously, as well as finding replacements for Kendall Reyes, Kashif Moore and Dave Teggart, all NFL hopefuls whose productivity will be lost next season.

With one practice in the books, here's what the Hartford Courant's Desmond Conner had to say about the QBs:

"Thought Micheal Nebrich looked great. Transfer Chandler Whitmer isn't fazed by much and looks like a true leader. Awesome pocket presence, good footwork back there. Casey Cochran is for real. Puts the ball right on the mark, short, deep, whatever. Today was my first time seeing Casey (Shame isn't it?) I was impressed though. For the record I thought Johnny McEntee was good today as well. Scott McCummings threw some nice balls, too."

Those five words -- "Casey Cochran is for real" -- are what every Huskies fan wants to hear. Of course, there's a huge difference between a spring practice in shorts and t-shirts, and a Big East game. But hey, it's a start, and that's all you can ask in mid-March.

And while Moore, the Huskies' most reliable pass-catcher a year ago, is gone, Mike Smith, academically ineligible in 2011, is back. And according to Conner, Smith is "determined to have a big year."

Teggart, the Huskies' all-time leading scorer and the man responsible for some huge wins during UConn's BCS Bowl run in 2010, will be replaced by kickoff specialist Chad Christen this spring. But the competition could be wide open in the fall when Bobby Puyol arrives on campus. In fact, heading into the 2011 season, he was the ninth-ranked kicker in the country and No. 1 in Florida.

We wrote about Puyol last July and it's worth mentioning again: Special teams play a critical role to any team's success. And more times than not, winning programs have solid special teams. That's the long version for explaining why Bobby Puyol, a 6-0, 170-pound kicker at Dwyer High (Palm Gardens, Fla.), is as important a Huskies 2012 commitment as any of the others.

If nothing else, this spring feels wholly different than last spring. Pasqualoni has a year under his belt, the veterans now know what to expect, and the new players were recruited by the current staff.