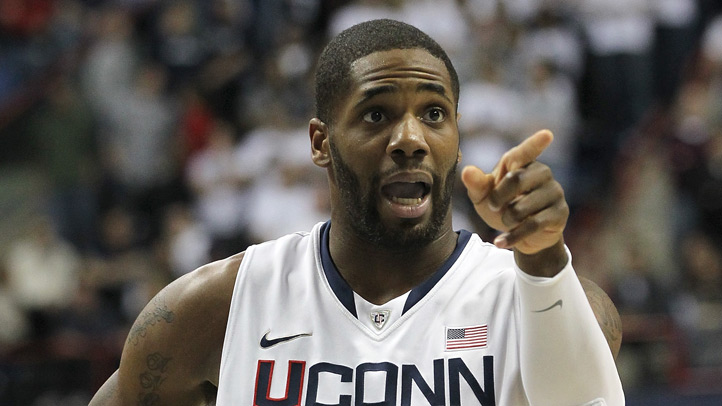 Heading into Saturday night's meeting with Syracuse, conventional wisdom was that the Huskies needed to win two of their final three regular-season conference games, have a good showing in the Big East Tournament, and keep their fingers crossed for an NCAA Tournament bid.

That dream is still alive after the Huskies rallied from a 17-point first-half lead only to lose in the closing minutes against the Orange, 71-69.

"It shows we have heart," sophomore forward Roscoe Smith said afterwards according to the Hartford Courant. And preseason All-American Jeremy Lamb added "We played hard … we definitely fought [Saturday]. Nobody gave up. Everybody was focused and really played together at the end. We can definitely build off this."

But there's no time for moral victories. As the Courant's Dom Amore notes, "Nineteen regular-season wins would leave the Huskies two shy of their 2010-11 total, but the field of bubble teams, most pundits agree, is not as strong. If the Huskies, 29th in the RPI, finish ninth in the Big East, they would most likely play a first-round league tournament game against DePaul, a team they beat by 26 points on Feb. 4."

Smith. who has struggled with consistency and confidence during his two seasons in Storrs, appears to have turned a corner in regards to both. He played 40 minutes in UConn's victory over Villanova and another 28 (including 11 points and four rebounds) against Syracuse.

"Roscoe is our X factor," said freshman center Andre Drummond. "He's played great defense (against the Orange)."

For George Blaney, who is 5-5 in Jim Calhoun's absence this season, the game-to-game message remains unchanged: "The message continues to be full possessions, full games," he said. "For some reason, we continue to not be able to do that."

And their is possible good news on the horizon. As The Associated Press reported over the weekend, "Calhoun has surgery scheduled for Monday, but told The Associated Press that he is hoping he can recover enough to return to the bench in time for the season finale against Pittsburgh on March 3. The Huskies had won two of their last three games, but have just five wins since Jan. 1."

Whatever Calhoun's fate, this much is certain: the Huskies need to continue to mature as a team. And more than that, they need to win some games. No, there are no moral victories, but if nothing else, the Syracuse game is proof that this team -- without Kemba or Calhoun -- can compete.