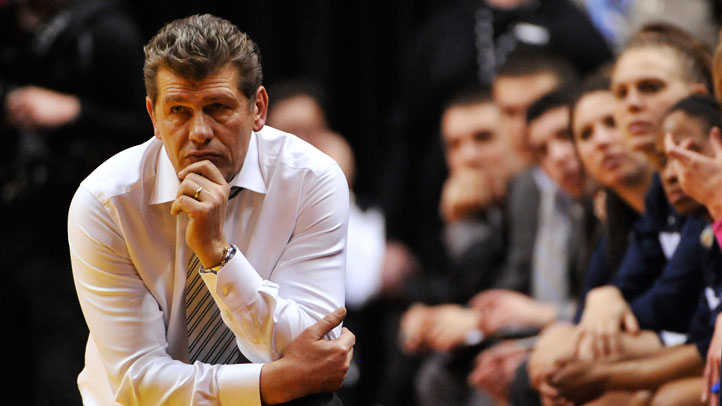 It was the second real test of the season for the Huskies and for the second time they made easy work of a formidable opponent. After beating No. 3 Stanford by 10 points three weeks ago, second-ranked UConn took down No. 7 Texas A&M 81-51 on Tuesday night at the XL Center.

It was a group effort in the truest sense; the Huskies had six players in double-figures, none scoring more than 14. Kelly Faris led the way in the first half, going off for 11 points, helping UConn to a 36-24 advantage at the break. In the final 30 minutes Tiffany Hayes, Bria Hartley and Kaleena Mosqueda-Lewis each added nine points apiece.

But it wasn't just the offense that carried the Huskies; the defense played well, too. Texas A&M converted just 32 percent of the shots they took from the field and were 0 for 4 from behind the arc in the second half. UConn, meanwhile, was 51.6 percent from the field, 35 percent from three, and made 90.9 percent of their free throw attempts.

"We felt like our defensive pressure could give us a chance to get out in the open floor a little more," coach Geno Auriemma said. "Texas A&M is a really good half court defensive team. They're really physical and look to take you out of it. I thought if we extended the floor a little bit it could create more opportunities for us. I felt it set the tone from the beginning."

It was as close to a clinical performance as we've seen from the Huskies this season, and that's saying something given that Hayes is the only senior on the team.

"The last team that I had that played mistake free basketball was in 2002," said Auriemma when asked if hard work compensates for inexperience. "They played hard and made no mistakes. Most teams do make mistakes and those mistakes usually come from inexperience or lack of maturity. You can make up for mistakes by how hard you compete for things."

And then there's Caroline Doty, who has battled serious knee injuries, ankle tweaks and a concussion at various points in the last 12 months to get back on the court. She played 21 minutes Tuesday, scored 11 points and had three steals. Her experience, ball-handling skills and ability to consistently drain 3-pointers gives Auriemma another backcourt weapon to go along with Hartley, Faris and Hayes. It also allows the Huskies to consistently push the ball up the court on offense, putting pressure on the defense in the process.

"I think what happens when you're willing to play at that pace for 40 minutes, I think the other team just kind of gets to the point where they just go, 'I can't keep this up,' " Auriemma said, via the Hartford Courant. "You can see it in their face sometimes and in their body language. It's the one thing I'm most proud of. We keep that pace. There's no getting tired, or going I don't feel like it this possession. You try to make people keep up with us."

Coach Gary Blair, who led Texas A&M to a national title in April, was impressed by what he saw from the Huskies.

"A team that pressures does not like to be pressured back," he said. "That's what caused our [14] turnovers in the first half. We didn't know to attack.

"Connecticut played with so much poise. When you're in a four-guard offense, sometimes it's hard for me to play man-to-man when I'm playing two post players and one is on one of their guards."

UConn is now 8-0 on the season. They open up conference play on Friday when they travel to New Jersey to face Seton Hall.