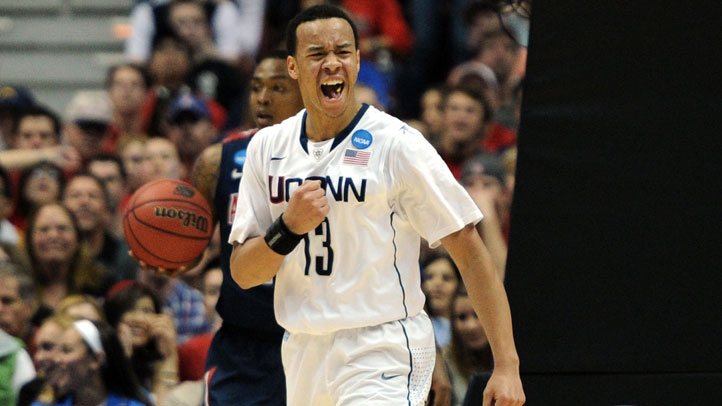 UConn's fall semester officially ends in 10 days. For the Huskies basketball team this time of year, it typically means the games are less frequent and against easier competition.

When the schedule was released several months ago, that seemed to be the case again. In December, the Huskies faced Arkansas (in the Big East/SEC Challenge), but after that it was supposed to be smooth sailing until conference play kicked off on December 28: Harvard, Holy Cross and Fairfield. At least that was the perception.

In the six weeks since the season began, Harvard is 8-0, winners of the Battle 4 Atlantis holiday tournament (the Huskies lost to Central Florida in the very same tournament), and are ranked 24th in the country. And on Thursday night, they're coming to Hartford to face the Huskies in a game that will be anything but a formality.

On Wednesday, coach Jim Calhoun talked about the matchup.

"I was trying to think who we played like them, and the team that actually jumped off the pages was Butler from last year," Calhoun said, via TheDay.com. "They can play fast. … They can play slow and win a game. They're very good in the last five minutes of every game. They shoot better, and they make foul shots. And they're a very confident group. … It will be another test for us. ... This team is good enough to beat us."

Things worked out pretty well for UConn when they last faced Butler, but that due to a confluence of events: the Huskies were red hot and Butler played one of their worst games in years.

Calhoun also remembers what it was like to be ranked for the first time, which Harvard accomplished when they cracked the top 25 last week.

"I think back in 1990 when we were ranked, they had t-shirts made up," Calhoun said. "It's exciting for them certainly."

Harvard doesn't have the athletes of other top-25 programs, but that doesn't make them any less competitive. It just means they have to play a style that fits their players. That includes slowing the ball down, working the shot clock and waiting for the other team to make a mistake. Harvard frustrated Florida State earlier this year, allowing just 14 first-half points before eventually winning, 46-41.

The Huskies understand what they're up against. But it's one thing to know what's coming and something else entirely to maintain your patience when you're in the middle of it.

"It's more of a focus game," sophomore Tyler Olander said. "You've got to come and play just as hard as you would any other team. They've got the ranking. … They won down in the Bahamas. They're coming in with a lot of confidence and we've got to try to take that away from them a little bit."
UConn took Harvard out of their game a year ago, jumping out to a 27-point halftime lead before winning going away, 81-52.

The Crimson then reeled off 23 straight wins, shared the Ivy League championship, and now they're one of the best 25 teams in the country. So, no, the Huskies aren't taking them lightly.