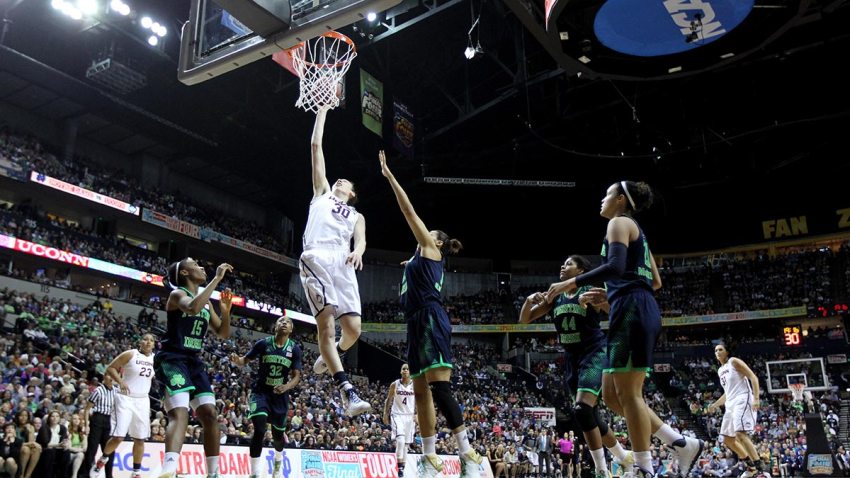 Junior Breanna Stewart, the best college basketball player in the country, returns to UConn fresh off a stint with Team USA and their gold-medal performance at the FIBA Championship earlier this month.

But six years ago, Stewart, then 14, was at the beginning of her national team career. In fact, when she was invited to to play for the United States' Under 16 team in 2008, her parents considered turning down the invitation.

"It wasn't a flat out turn down, but I remember having a conversation with Brian," USA Basketball chief Carol Callan told the Hartford Courant's John Altavilla. "He just wasn't sure what it [the U16 team] was, or whether Breanna was that good [to participate] and if, in fact, it was something she should be a part of. She was only 14 and at that point you are obviously questioning who exactly this is you are considering allowing your daughter to spend time with; and, oh by the way, you are planning to take her out of the country? All of the initial hesitation made perfect sense to me."

Eventually, the Stewarts felt comfortable enough to send Breanna to play with the U16 team and, well, the rest is history.

"Listen, they always say a person's personality and character comes from her parents, that the apple doesn't fall far from the tree," Callan told the Courant. "Both of those things are true with Breanna; she has always been a humble person. And her parents are the same way. They are always so appreciative of the opportunities offered their daughter. They have no expectation of entitlement or that anyone deserves anything less than their daughter does. It's largely because of where she comes from that she is the kind of person she is and why people just love having her around."