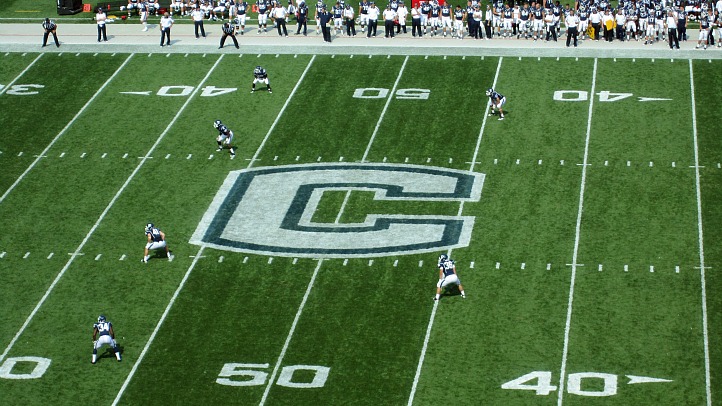 We wouldn't call the 2011 Huskies underdogs, at least not yet. It's too early in the season to tell what type of team they will be -- overachievers like the 2010 bunch that won the Big East and earned a BCS Bowl appearance, or a group caught in a rebuilding year after losing key players on offense. We should have some resolution on the notion soon, perhaps by Friday night.

But their opponent, Iowa State, happily embraces the underdog role which, if nothing else, could serve as inspiration for the Huskies. The Hartford Courant's Paul Doyle writes that the Cyclones are fresh off a triple-overtime victory over in-state rival Iowa, and two years ago, they beat Nebraska for the first time in 32 years. Last season, they beat Texas, their first road victory over a ranked team in two decades.

"I think it shows great resolve by our kids," Iowa State coach Paul Rhoads said on a media conference call Monday, according to the Courant. "I don't think in three years I've ever taken the field and thought our kids didn't believe they could win the football game. Now, in those three years we've gotten beat badly by some people, where shortly after the game started it was obvious we weren't in it.

"But I've just never felt that they went into [a game] not believing they could win. Our preparation was such in this game that they were a confident football team when we took the field and then they went out and matched that confidence with a very high level of play."

The moral: you don't have to have a roster full of All-Americans to compete in big-time college football. The Huskies, of course, are quite familiar with this strategy. That said, not having a proven quarterback will doom just about any team, and right now that's the biggest issue facing UConn.

Iowa State, on the other hand, appear set at quarterback. The California native Steele Jetz a junior college transfer who was the Big 12 Offensive Player of the Week after throwing for 279 yards and four touchdowns against the Hawkeyes.
Or maybe, like the Huskies' Johnny McEntee, Jetz is a work in progress. Against Northern Iowa two weeks ago, Jetz was just 18 of 40 for 187 yards, including three interceptions (he did add 80 rushing yards, however).

Rhoads spoke frankly about that performance. "That makes you as a defensive coach pull your hair out. You can't stop a quarterback who ad-libs and gets himself out of trouble."

Which, we imagine, is how Paul Pasqualoni occasionally feels, too. Upside: McEntee can only improve, and hopefully this is the week he does it.