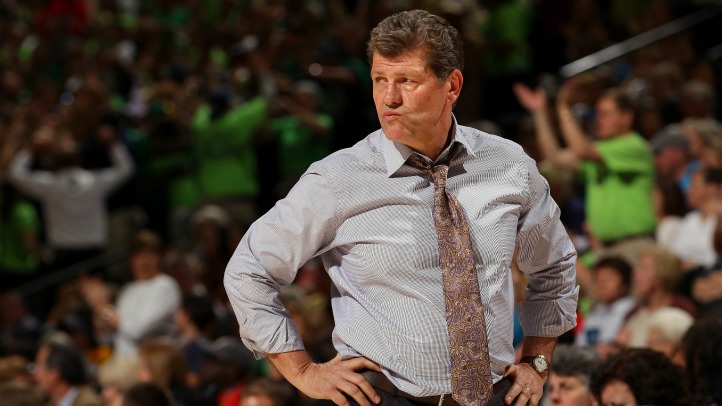 Two of the most basic tenets of winning basketball -- making free throws and avoiding turnovers -- ultimately doomed the Huskies in Tuesday's regular-season finale against Notre Dame. It took three overtimes, but stretches of sloppiness coupled lapses in concentration led to the Fighting Irish's 96-87 victory. It continues Notre Dame's recent domination of UConn, now running its record to 6-1 in the last seven get-togethers, including a sweep of the season series.

The Huskies came out strong and led by six at the half, but for as well played as the first half was, the final 20 minutes was a clinic in how not to do things. For the game, UConn committed 35 turnovers, 15 more than their previous season high. Not surprisingly, this fact didn't sit well with Geno Auriemma.

"How do I explain the turnovers?" he asked rhetorically. "I don't know. I guess we're not any good. … We need to protect the ball better and we didn't do it. And unless we do a better job of it, this is going to be it for us."

Auriemma blamed the Huskies' inability to handle Notre Dame's pressure as the key culprit in the sloppy play. It didn't help that Stefanie Dolson and Bria Hartley fouled out, although both players struggled in different ways; Dolson had 11 turnovers but also had 12 points and 11 rebounds. Hartley, meanwhile, four turnovers to go along with 10 points and six assists, but her lone miss from behind the arc ran her streak to 11 straight attempts without converting a three, stretching over three games.

Sophomore Kaleena Mosqueda-Lewis and senior Kelly Faris put UConn on their collective backs. The former scored 26 points, including 56 percent from three; the latter was good for 21 points and 13 rebounds.

"The seniors, we didn't handle the pressure well, and we can't expect any of the younger girls to do that if we can't even do it," Faris said afterwards. "Thirty-five turnovers, that's incredibly unacceptable."

To be fair, there wasn't much more Faris and Mosqueda-Lewis could've done. Although the game should've been decided after the first overtime. The Huskies led 70-66 with 29 seconds to go and Notre Dame fouled to stop the clock. Faris missed the front end of a 1-and-1. The Irish got the rebound but missed on the other end before fouling Breanna Stewart with 22 seconds remaining. Stewart also missed the front end of a 1-and-1. Six seconds later, Notre Dame cut the lead to 2 before fouling Tuck -- who missed the front end of a 1-and-1.

You know how this ends: the Fighting Irish tie it up with six seconds to go, get to a second overtime, and then get to a third before finally putting UConn away.

"How many chances can you have?" Auriemma asked. "You're on the road against a really good team. You might get one chance. You might get two chances when it really matters. But you're not going to get unlimited chances."

And it's with that bitter taste in their mouths that the Huskies head into the Big East Tournament.