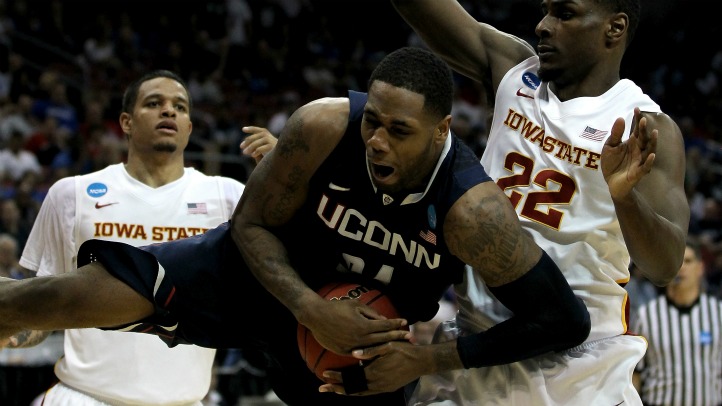 The day after the Huskies lost convincingly to Iowa State in the second round of the NCAA Tournament, we speculated about the futures of, well, just about everybody. Coach Jim Calhoun could retire, and Jeremy Lamb, Andre Drummond and even Alex Oriakhi might choose to enter the NBA Draft. According to a report from Kevin Duffy of the Connecticut Post, Oriakhi's leaving but not for the NBA: he's transferring.

"Oriakhi will seek a transfer for his senior season, his father, Alex. Sr., told Hearst Connecticut Media Group. He informed the coaching staff and athletic director of his decision Wednesday afternoon, Alex Oriakhi Sr. said."

The reason Oriakhi is bolting Storrs? The impending NCAA issues the program faces in light of poor Academic Progress Rates (APR). As it stands, the Huskies are ineligible for the 2013 NCAA Tournament, although that could change when the committee meets next month.

"Alex will transfer because of the NCAA tournament next year," Alex Oriakhi Sr. told the Post.

Meanwhile, the New Haven Register's David Borges spoke with Oriakhi's mother, Angela, who was surprised to hear that her son was leaving UConn.

"I don't know where (Alex Oriakhi Sr. is) getting that from," she said on Wednesday afternoon. "I have to talk to my son. Whatever he wants to do is what I'm going to stand by."

Borges contacted a UConn official who wasn't aware of Oriakhi's reported decision. UConn officials also told NBC Connecticut they had not been told of any decision by Oriakhi.

Angela Oriakhi said that her son "loves Calhoun to death," although he was the target of the coach's wrath during the Iowa State game (to be fair, Oriakhi had plenty of company). As for his future, Angela says "Whatever he wants to do, I'm going to support him."

If Oriakhi and Drummond leave this spring, the Huskies will lose their two-thirds of their starting frontcourt and will head into 2012 with more issues than their 2013 NCAA Tournament fate.