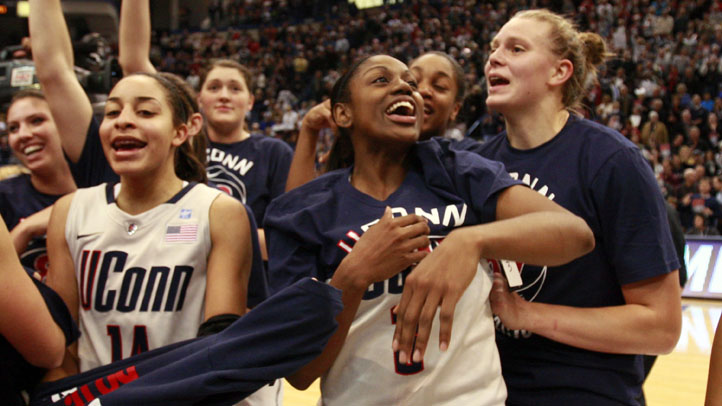 In the months since the UConn women's team lost in the Final Four to Notre Dame, we've discussed virtually every player -- currently on the roster and incoming recruit -- except Tiffany Hayes. In a sense, she's the forgotten starter, lost in the mix between Maya Moore's greatness and the emergence of freshmen Bria Hartley and Stefanie Dolson.

That said, how you view her career is all about perspective. As Rich Elliott writes in Greenwichtime.com, Hayes "has lived a charmed existence." The 5-10 sharpshooter has lost just twice in her three-year career, and had the good fortune to play alongside the likes of Moore and Tina Charles.

But it's not like Hayes is just along for the ride. Last season she was third on the team in 3-point attempts and conversion percentage (she was 51 for 146, a 34.9-percent clip) behind Moore and Hartley. And she will be a big part of the Huskies perimeter game in 2011-12. Not only that, but as a senior, Hayes will take on a leadership role, not to mention coach Geno Auriemma's assertion that she has the ability to be the school's next All-American.

"I definitely embrace it,'' Hayes said, according to Elliott. "I have a good group of girls around me. But at the same time I'm going to go out there and give it my all, All-American or no All-American. I can make my teammates become All-Americans if I play up to my abilities.''

As Elliott points out, despite Hayes' raw ability, consistency has been an issue. "Last season Hayes opened by scoring 30 of her career-high 32 points in the first half against Holy Cross Nov. 14. She scored at least 20 points in eight games overall, including three against ranked teams. However, Hayes also failed to reach double figures in 11 games, including five against ranked teams and twice during the NCAA tournament."

So now, without Moore and in her final season, Hayes has one more chance to prove that she is capable of leading this team. But one of the many benefits to playing in the Huskies' system is that you never have to shoulder the entire burden. Moore didn't do it, and given the talent on the roster, neither will Hayes. But that doesn't mean she can't lead by example.

"I think I definitely have to step up my leadership skills,'' Hayes said. "I've been talking back and forth a lot with the coaches and they've been telling me that, `yes, I'm doing good.'''

In addition to Hartley and Dolson, fresh off leading the U-19 US National Team to a world championship last month, there's returning starter Kelly Faris, as well the three freshmen that made up the No. 2 incoming recruiting class in the country: Kaleena Mosqueda-Lewis, Brianna Banks and Kiah Stokes. Then, of course, there's Caroline Doty, who missed last season with a knee injury but was second on the team in 3-point attempts during the '09-'10 season.

Doty watched every game last season from the bench and from where she was sitting Hayes is up to the challenge.

"The way she responded to the Final Four and how it ended with a whole new attitude and a whole new approach, you can just tell that she is so ready for it,'' Doty said. "The biggest goal is the national championship, and I know she is going to work her butt off to get there.''

The women are currently in Europe on a four-game exhibition tour, but the the Huskies will begin practicing for the upcoming season in just over a month.