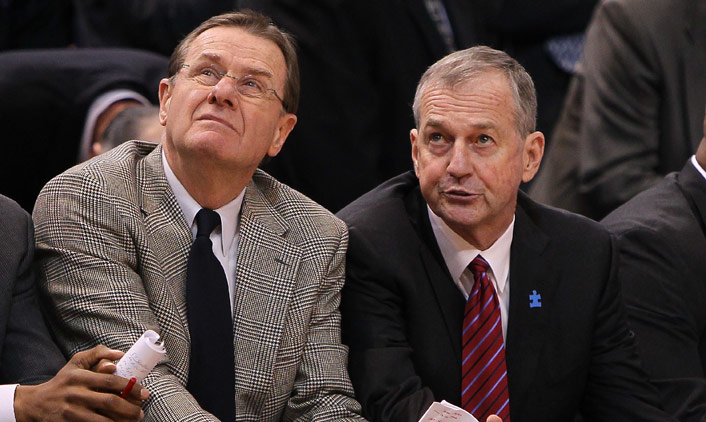 ESPN's Andy Katz said it's time for Jim Calhoun to make a decision about his future and by extension the future of the Huskies' program. In case you missed it, Calhoun told Sports Illustrated last Thursday that he'd almost certainly have an answer in two weeks. Meanwhile, athletic director Warde Manuel said that until he hears otherwise, Calhoun's his coach.

Here's what Katz said Tuesday morning:
...Calhoun has earned the right to decide when he's going to retire. He also should be given his space to recover from surgery to repair a fractured hip. But he also is well aware that practice starts in a month. His staff needs to know if Calhoun is going to coach UConn this season sooner than later. His athletic director Warde Manuel also needs to be told what Calhoun wants to do.

None of that had happened through Monday. Calhoun sounded like someone who was definitely coming back shortly after the bike accident in early August. But his tone apparently has changed a bit since, according to those close to him. No one is quite sure what he's going to do for this season. The indecision needs to stop. The players and staff deserve to know this close to the start of practice if he's going to coach.
It's no secret that Calhoun wants assistant Kevin Ollie to succeed him, while Manuel has said there will be no coach-in-waiting scenario at UConn. The Hartford Courant's Dom Amore pointed out Monday that Calhoun waiting until now (or, more accurately, a few weeks from now) to make up his mind could put the university in a tough position in terms of naming a successor other than Ollie.

Of course, UConn could just name an interim coach for 2012-13 -- George Blaney, perhaps -- and open up a nationwide search after the season.