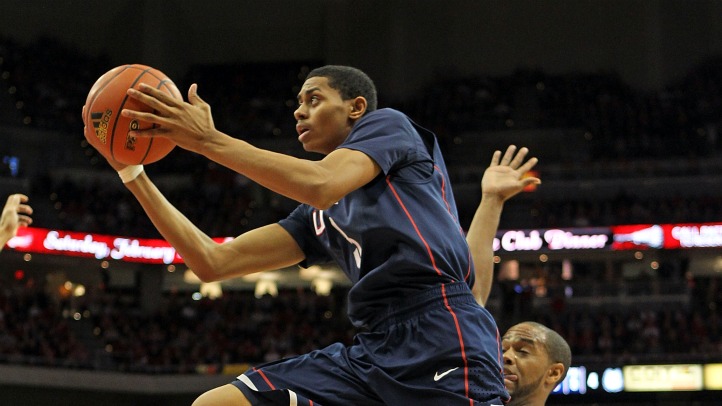 That didn't take long. Two days after being named a finalist for the Under-19 US National Team, UConn rising sophomore Jeremy Lamb was officially named to the final roster. He'll join 11 other players in Latvia June 30-July 10 for the FIBA U-19 World Championships where the United States will defend the gold medal it won in 2009.

George Mason coach Paul Hewitt (formerly of Georgia Tech) will lead the squad. Earlier this week Hewitt said "The focus from here has got to be on defense. I don't think that we can be a team that's going to have the most continuity, so we have to be a really good defensive team and capitalize on our ability to get stops in transition."

As we mentioned at the time, defense is a big part of Lamb's game even if it's rarely talked about. He was instrumental in disrupting Shelvin Mack during the NCAA Championship in April, and Mack admitted as much after the fact. "They would contest shots that people normally wouldn't be able to contest," Mack said at the time. "And it was Lamb's ability to defend one-on-one that played a big role in UConn's game plan."

Joining Lamb on the U-19 squad: Keith Appling (Michigan State/Detroit, Mich.); James Bell (Villanova/Orlando, Fla.); Anthony Brown (Stanford/Huntington Beach, Calif.); Jahii Carson (Mesa High School/*Arizona State/Phoenix, Ariz.); Tim Hardaway, Jr. (Michigan/Miami, Fla.); Joe Jackson (Memphis/Memphis, Tenn.); Meyers Leonard (Illinois/Robinson, Ill.); Khyle Marshall (Butler/Davie, Fla.); Doug McDermott (Creighton/Ames, Iowa); Tony Mitchell (North Texas/Dallas, Texas); and Patric Young (Florida/Jacksonville, Fla.).

Hewitt was predictable in his praise -- "I like the depth and versatility of this team, in particular our big guys. I think our big guys are a great presence around the basket and do an excellent job of screening" -- but the reviews were less glowing when the conversation turned to his defense.
"Defense will have to be a staple for this team and we have work to do," he said. "I'm not happy with where we are defensively. I think we made steps, we're doing some good things, but in order to compete for the gold medal we have to get better."

Hewitt sounds like every other coach in the history of basketball. They're never happy with something, and it's usually defense. Luckily, defense has become a big part of Lamb's game, which is not only good news for the national team, but for the Huskies, who just lost the best player in the program's history. There will be no "next Kemba Walker," but having "the original Jeremy Lamb" isn't a bad consolation prize.