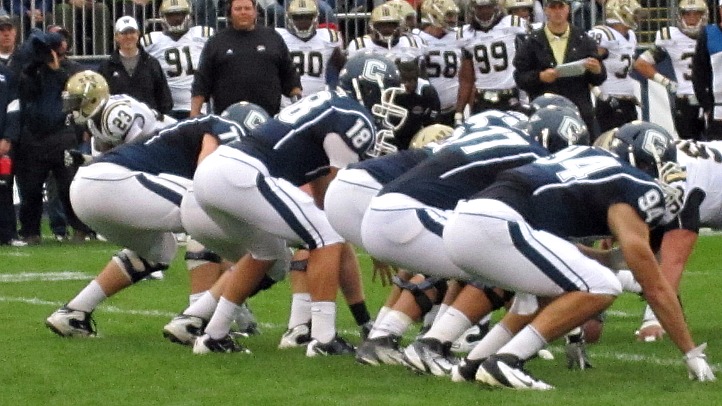 Perhaps we spoke too soon when earlier we said that Johnny McEntee had "officially" won the Huskies' starting quarterback job. We just assumed that to be the case after head coach Paul Pasqualoni spoke well of McEntee heading into the Western Michigan game.

But as of Tuesday it's officially official: McEntee is UConn's No. 1 QB, a distinction he has earned with solid back-to-back performances against Buffalo and Western Michigan.

"I think we just keep working harder and harder," McEntee said. "It makes it easier out on the field. We're definitely getting in a rhythm."

That's not just player speak; McEntee's right -- the Huskies' offense is taking shape. It may not be high-powered or big-play capable but McEntee has made better decisions in recent weeks, he's been more accurate with his throws, and he appears much more comfortable in the pocket. These are all things offensive coordinator George DeLeone can work with. McEntee may never remind anyone of Dan Orlovsky winging the ball all over the yard, but it's less about throwing for 400 yards a game and more about consistency.

As the Norwich Bulletin's Joe Perez notes, McEntee had a 100-yard receiver in three straight games and has improved enough in recent weeks that Pasqualoni said the Huskies would have beaten Western Michigan if not for a late-game Ryan Griffin turnover that came at the end of a huge McEntee completion.

"In the big picture of things, and I said this last week after the Buffalo game, each week you see Johnny get better," Pasqualoni said, according to Perez. "He's progressing every single week; he's more consistent with his reads, his timing, his footwork, getting the ball out is improving. He's made some plays with his feet. ... Other than two or three times in the game, he was on the right side of the progression of the route. I hope it continues."

We hope it continues, too. The problem, of course: the Huskies travel to West Virginia Saturday and, well, the Mountaineers are a little higher on the food chain than Western Michigan. But if McEntee can just maintain his consistency and -- more importantly -- the secondary fixes the issues that led to Western Michigan QB Alex Carder throwing for 479 yards and five touchdowns, the Huskies will be competitive. And given the circumstances this weekend, that's a good start.