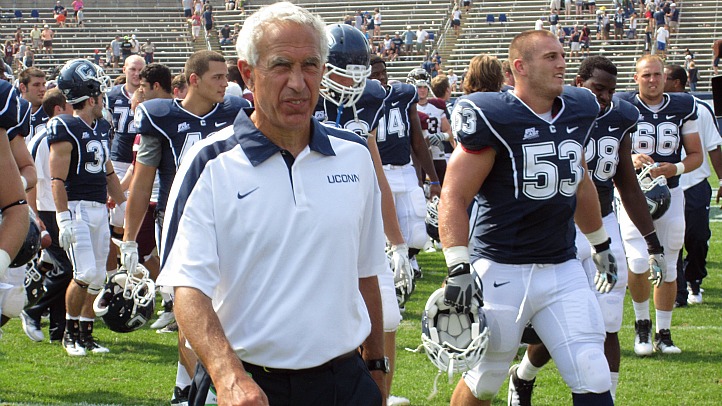 Not that the Huskies needed much help on defense, but one of their best players, defensive end Jesse Joseph, will be on the field Saturday night when UConn faces off against Buffalo. After registering 8.5 sacks a year ago, Joseph missed the first three games of the season with a knee injury before being cleared to play this weekend.

"I'm excited, excited to be back," he said, according to the Norwich Bulletin's Joe Perez. "It's a good thing."

Perez adds: "His return gives UConn three defensive ends it can rotate in and out of games. He joins Trevardo Williams and Teddy Jennings, who stepped in and played well in Joseph's absence."

It also means that the Huskies will have all four defensive line starters back from last year's squad, one of the Big East's best. "It's going to mean a lot to have Jesse Joseph," coach Paul Pasqualoni said. "Jesse is a real quality player. Jesse is one of those guys, he delivers every day. He's as consistent as they come."

Through three games, the Huskies' defense is allowing just 2.5 yards per rushing attempt (79.7 per game) and 6.4 yards per pass attempt (179.0). (By contrast, UConn's offense averages 135.7 rushing yards and 187.7 passing yards per game.)

The Huskies' D also has six interceptions 10 sacks, and in the four times opponents have reached the red zone, they've scored just one touchdown and settled for three field goals.

The Buffalo game couldn't come at a better time for UConn, a team that, three weeks into the season, is still searching for an offensive identity. The Huskies have regularly made easy work of the Bulls, who are 1-2 (0-1 in the MAC), and Saturday night should give them another opportunity to figure out a muddled quarterback situation.

With Joseph back in the lineup, the defense should be fully prepared to do much of the heavy lifting. And if the previous three games are any indication, score some points, too.