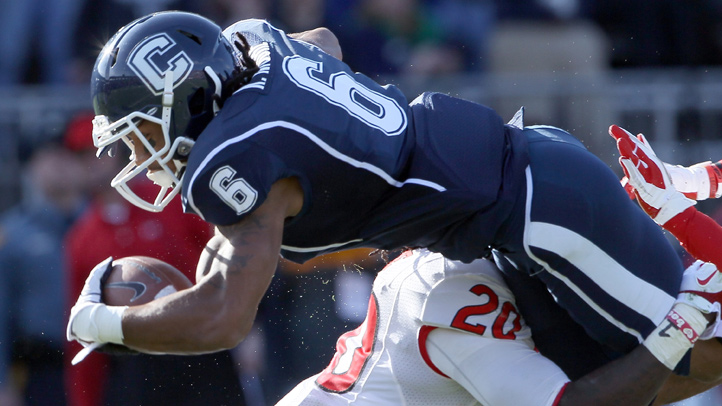 On Monday, we passed along a report that former UConn wide receiver Kashif Moore had signed as an undrafted free agent with the Bengals and on Wednesday, the team confirmed it on its website. Bengals.com writer Geoff Hobson had this to say about Moore:
"Can flat out fly…Put on a show at the combine…Blistered 40 with 4.37…Offered combine-best 43.5-inch vertical, inch and a half off record…Only returned eight kicks (no punts) at UConn, a skill he'll no doubt be asked to execute in NFL…126 career catches for 13.5-yard average and 13 TDs, for running program without big passers"
According to Moore's agent, Ed Wasielewski, the wide receiver has signed a three-year contract with the Bengals, and received a $5,000 signing bonus.

At least 15 teams called or made offers to Moore or his agent during the seventh round of the NFL Draft and just after the draft, according to Wasielewski. Moore narrowed their choices to four clubs that would give him the best opportunity, and finally decided Cincinnati was the best fit.

The NFL is littered with undrafted-free-agent success stories -- Arian Foster, James Harrison, Tony Romo, Wes Welker, Victor Cruz -- all players who didn't hear their named called on draft weekend now among the league's best at their position. Moore goes to a team with needs at wide receiver, so the opportunity is there. But unlike players drafted early in the process, Moore will have almost no margin for error. But as Bill Walsh liked to say: it's not where you draft a player, it's how good he is. And for Moore, that's up to him.