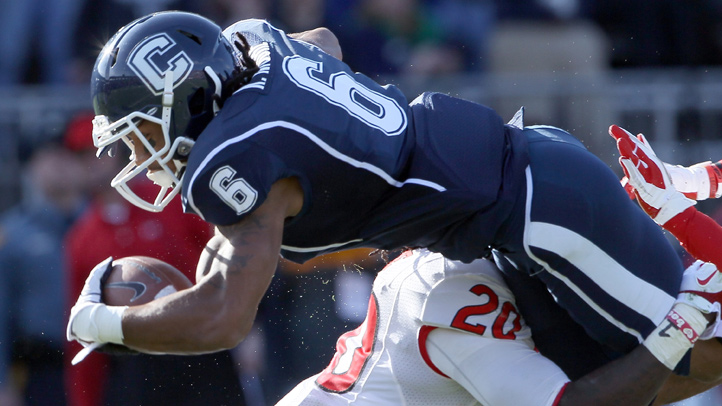 We're two weeks out from the NFL Draft which means there's two more weeks of obfuscation by teams trying to hide their true draft intentions and salesmanship by agents trying to present their clients in the best possible light. This is a story of the latter, specifically, Ed Wasielewski, agent to Kashif Moore, comparing the former Huskies wide receiver to the Eagles' explosive wide receiver DeSean Jackson.

On the surface, the physical similarities are striking -- they're both 5-9; Moore is 180 pounds, Jackson is 170; they ran the 40 in 4.42 and 4.35, respectively; and their vertical leaps were 43.5 and 34.5 (you can see all the comps here, thanks to the Hartford Courant's Desmond Conner.)

While measurables are an indicator of future success, ultimately, it's just a piece in a pretty big puzzle. Jackson's productivity in college dwarfs Moore's. Additionally, Jackson was a weapon in rushing situations and a threat in the return game.

Jackson was also expected to be a first- or second-round pick in the weeks heading into the 2007 NFL Draft. Moore is generally expected to be a late-rounder.

This isn't to take anything away from Moore, who had a breakout performance at the combine in February. But it's worth repeating: that was a shorts-and-t-shirt workout and while it's part of the total scouting profile, it's not the end-all be-all. But it also doesn't mean that his NFL career is over before it begins; the league is full of wideouts overlooked on draft day who are now big-time players. The Giants Victor Cruz wasn't drafted at all and the Steelers' Antonio Brown went in Round 6. Both are arguably the best wideouts on their teams.

As Hall of Fame coach Bill Walsh used to say this time of year, it's not where you're drafted it's what type of player you are. Right now, Moore's not in the same conversation with Jackson. Whether that changes is ultimately up to him.