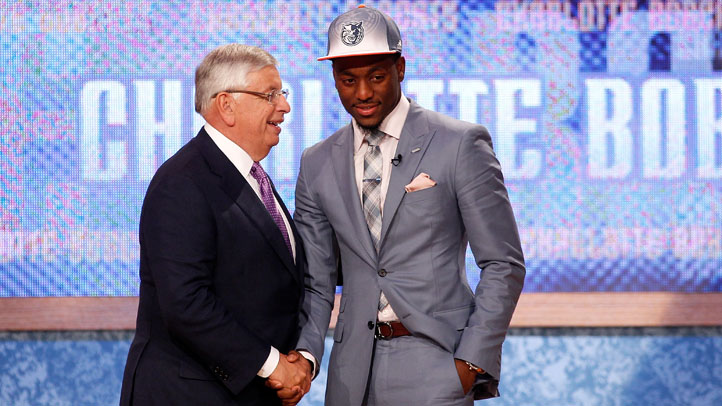 The NBA may be headed for a lockout, but the newest member of the Charlotte Bobcats, some guy named Kemba Walker, was in Avon this week to lead a clinic for kids at Roaring Brook Elementary School.

After months of answering the same questions from the media -- about his lack of height, about not truly being a point guard in college, about how he might struggle to play defense against bigger NBA opponents -- these inquiries must have seemed refreshing.

"What size shoe do you wear? How many pairs of sneakers do you have? Have you ever thrown a basketball off a referee? Do you play golf? Do you have an Xbox? Are you better than Jimmer Fredette? How did you get "elected" to UConn? What opposing player do you 'despise?' Can you dunk? Do you feel bad for Gary McGhee? What's your favorite shot?"

But Walker also talked about the future, specifically what he's doing to promote his personal brand, even if there is no NBA basketball in the coming months. Details via the Hartford Courant's Mike Anthony:
Walker has also begun making personal appearances to endorse products - Axe body spray is one. He will be filming a Best Buy commercial. He's working toward an endorsement deal with Under Armour, too. In Charlotte, Walker's face is already on billboards and the back of buses.

"My agency is doing a great job getting me involved in different things," he said.

Walker, who will make just over $2 million as a rookie, traveled to Charlotte for a whirlwind introduction Friday, the day after the draft. He has left the Bronx and has begun house-hunting in Charlotte for his family. For now, Walker is renting a home in Glen Cove, N.Y., on Long Island, with former Hofstra star Charles Jenkins, who was drafted 44th overall by Golden State.
Whenever the NBA labor dispute is solved, the Bobcats will have to decide how to divvy up playing time for their point guards. DJ Augustin's game is not that dissimilar from Kemba's. To hear Charlotte coach Paul Silas tell it, it's not a huge concern.

"Can these two guys play together?" Silas asked. "I'm not sure about that right now ... If they do, I'm sure we're going to have to do something other than play a man-to-man (defense), so we're going to have to figure all that out. If we can figure out how they play together defensively, we're going to have a real plus on offense with their running ability and quickness and so forth."

For now, though, when Walker isn't speaking to school children, he's living on Long Island, working out, and waiting to take the next step in his basketball career.