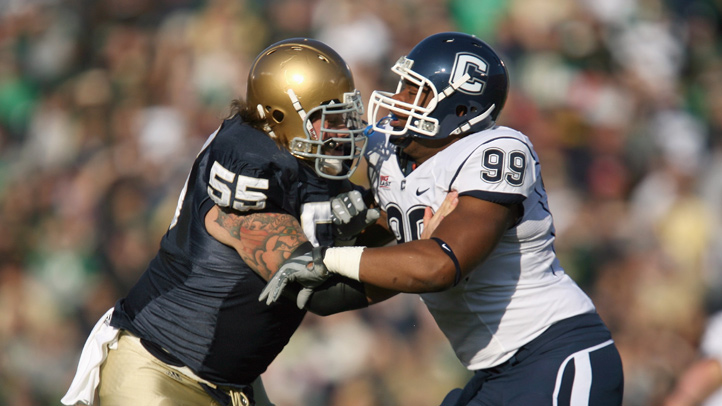 The NFL Combine begins this week in Indianapolis, some three weeks after the Super Bowl packed up and left town. For the unfamiliar, it's the annual meeting place for NFL coaches, scouts and front-office types to eye this year's talent crop in a controlled environment.

The Huskies have several former players now earning a living in the NFL, Dan Orlovsky, Darius Butler and Donald Brown among them. Brown's a former first-rounder and depending on how the next few months play out, there's the very real possibility that former UConn defensive tackle Kendall Reyes could join him as a first-round selection. Last week, ESPN draft expert Mel Kiper included Reyes among the 32 names in his latest mock draft.

"He's not going to shed blocks as a brilliant pass-rusher would, but Reyes can develop into the guy who makes everybody else a better pass-rusher because he demands so much blocking help," Kiper said.
"We've seen the value of Vince Wilfork, and while Reyes isn't the size of a city block, he certainly has some of the traits of a guy who can help a defense similarly," he continued. "When he gets good leverage (which he usually does), Reyes is really strong and will get offensive linemen up off their feet as he pushes them into the backfield.
Reyes had a solid senior season bolstered by an exceptional Senior Bowl performance the week prior to the Super Bowl. He played both tackle and end during the week of practice, and had a sack during the game.
CBSSports.com draft guru Rob Rang was in Alabama for the Senior Bowl and noted that Reyes' "burst off the snap and quick hands made him a tough draw for even the most athletic and experienced of the North offensive linemen."

There will always be a need for defensive linemen who can get into the backfield, whether it's by brute force or quickness. If Reyes has a good showing in Indy this week, his draft stock will continue to rise.