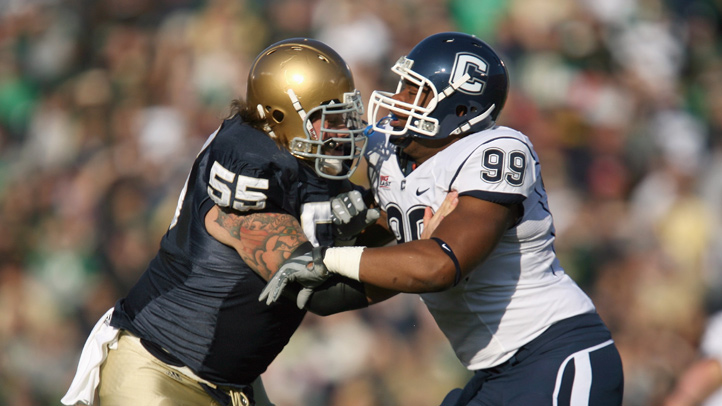 Bowl-eligible teams are currently working out in preparation for -- you guessed -- their impending bowl appearances. It's something first-year Huskies coach Paul Pasqualoni would love to be doing. Partly because postseason games are indicative of regular-season success, but also because it means more practices for his young team, something they can't have enough of.

Instead, UConn, whose season ended nine days ago with a loss to the Bearcats in Cincinnati, is celebrating their successes from the 2011 season before looking ahead to 2012. On Sunday, the Huskies held their annual awards ceremony.

Defensive tackle Kendall Reyes, who could be an NFL first-rounder in April, was named 2011 team MVP. He was also named to the Big East first-team All Conference team last week and finished the season with 46 tackles, 13.5 coming behind the line of scrimmage.

A year after running back Jordan Todman was named the Big East Offensive Player of the Year, freshman Kyle McCombs had to settle for the Huskies' version of that award. He rushed for 1,115 yards and seven touchdowns, and averaged 4.2 yards per carry (and 95.9 yards per game). McCombs was a godsend for offensive coordinator George DeLeone; first-year quarterback Johnny McEntee struggled with consistency for most of the season and McCombs was often UConn's lone consistent scoring threat.

Kicker Dave Teggart, also a Big East first-teamer, was the special teams player of the year, although that honor could've gone to return man Nick Williams. Teggart leaves UConn holding the record for field goals (74), extra points (128) and total points (349).

Other winners (via the Hartford Courant):

Wide receiver Kashif Moore received the Jasper T. Howard - Play-Every-Play Award, given to a strong team player with a "battle-to-the-end" spirit. Moore wore Howard's No. 6 this season in honor of the Husky player who was murdered in the fall of 2009. Moore was a four-year starter for the Huskies and was second on the team in receiving in 2011 and first in TD receptions with five.

Brian Kozlowski Award: DT Twyon Martin. Given to a courageous, hard working and productive person.

Kendall Madison Award: DE Trevardo Williams. To a strong team player who shows dedication, hard work, positive attitude and outstanding citizenship.

Football Alumni Award: LB Jory Johnson. To a player who has demonstrated leadership and dedication and is the ultimate team player.

John L. Toner Scholar-Athlete Award: S Harris Agbor. To a senior who has demonstrated outstanding academic performance and citizenship while making a significant contribution to the overall success of the team.

Joseph M. Giannelli Unsung Hero Award: QB Johnny McEntee.