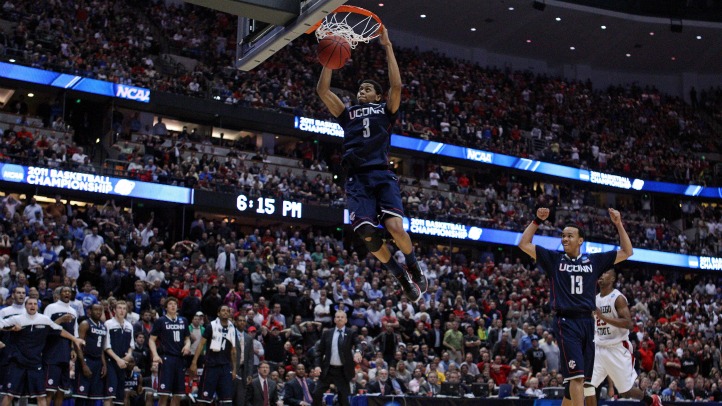 While the UConn women's team heads to Europe for a four-game exhibition, the men remain stateside, quietly preparing to defend their national title. Kemba's taken his game to the NBA, and sophomore Jeremy Lamb, who considered entering the NBA Draft in June and was the best player on the U-19 US Men's National Team this summer, is the de facto leader.

And while Lamb comes across as soft-spoken and reserved, it belies an on-court tenacity that had a lot to do with UConn's postseason success in 2010-11. We've seen it on display in recent weeks, too. He went for 25 and 35 in back-to-back National Team games, then came home to star at the Greater Hartford Pro Am, which is no easy feat given the competition.

And Lamb doesn't appear to be letting up. If he shows up to play, well, that's exactly what he's going to do. The latest evidence via the New Haven Register's David Borges: in a recent GHPA game, Lamb scored … 58 points. And lost.

"Lamb was on fire in a GHPA playoff game [Friday], pouring in 58 points for the Springfield Slamm," Borges wrote. "Unfortunately for Lamb, Gary Forbes was even hotter.

"Forbes, a UMass product who played for the Denver Nuggets last season, scored 78 -- that's right -- 78 points to lead the Sparks Auto Body Naughty Boys to a 136-132 victory. This was seriously fun to watch. Throughout much of the first half, Forbes (who drained 13 3-pointers) and Lamb matched each other … one 3-pointer after another. Kinda some Bird-Dominique '88 action."

Borges added: "Lamb hung tough with the NBA player. He never lost his composure (does he ever?), sank a bunch of long-distance treys and took it to the hole well all night."

And here's the video evidence:

Now all that's left to determine is if Jim Calhoun is coming back.