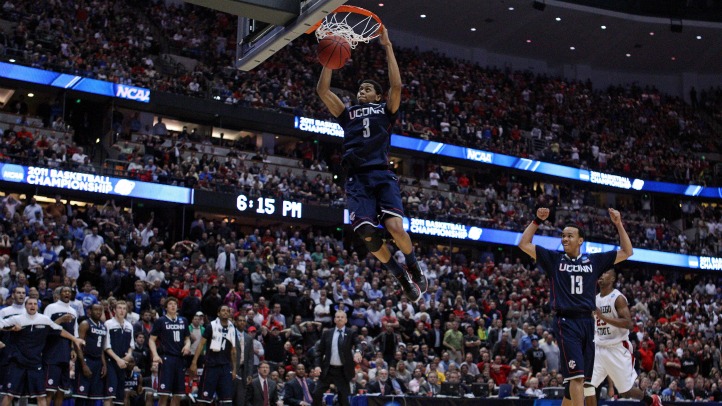 We're still five months away from the return of college basketball (and from where we're sitting in the middle of May, it feels more like five years), but members of both the men's and women's team are keeping busy during the off season. Bria Hartley and Stefanie Dolson will be working out with the under-19 National Team, and Thursday USA Basketball announced that Jeremy Lamb would be extended the same opportunity on the men's side.

Back in November, when the Huskies were picked to finish 10th in the Big East and unranked to begin the season, Roscoe Smith was supposed to be the freshman likely to have the biggest impact.

Smith -- like everybody else on the team but Kemba Walker -- struggled to find his niche. He started to settle in just as the Huskies were making their run through the Big East Tournament. But it was Lamb's emergence as a legit No. 2 scoring option that helped propel UConn through the postseason.

If Lamb played in March and April like he had in January and February, there's every reason to believe that the Huskies wouldn't have won the conference tournament or the national championship. There is only one Kemba, but he's much easier to contain with double and triple teams because no one else on the roster is a consistent scoring threat. Down the stretch, Lamb was that guy.

And it's now landing him a tryout with the U-19 National Team. Details from the USA Basketball release:
Lamb helped lead the University of Connecticut to the 2011 NCAA title and along the way was named to the NCAA Final Four All-Tournament Team after averaging 16.2 points and 4.8 rebounds.

Eight athletes listed among their NCAA conference all-freshman squads following the 2010-11 season, including two who were named their conference's freshman of the year. (Allen) Crabbe was named the Pac-10 Conference Freshman of the Year, and (Doug) McDermott was named the Missouri Valley Conference Newcomer of the Year and Freshman of the Year. Additionally, (Joe) Jackson collected MVP honors for the Conference USA Tournament, Lamb was named to the Big East Conference All-Tournament Team, and McDermott was also named All-Missouri Valley Conference first team.

Named to their respective conference all-freshman teams were: (Melsahn) Basabe (Big Ten), (Anthony) Brown (Pac-10), Crabbe (Pac-10), (Tim) Hardaway Jr. (Big Ten), Lamb (Big East), McDermott (Missouri Valley), (Travis) McKie (Atlantic Coast) and (Patric) Young (Southeastern).
Seventeen players have accepted invitations to attend training camp, which will be held June 17-24 in Colorado Springs, Colorado.