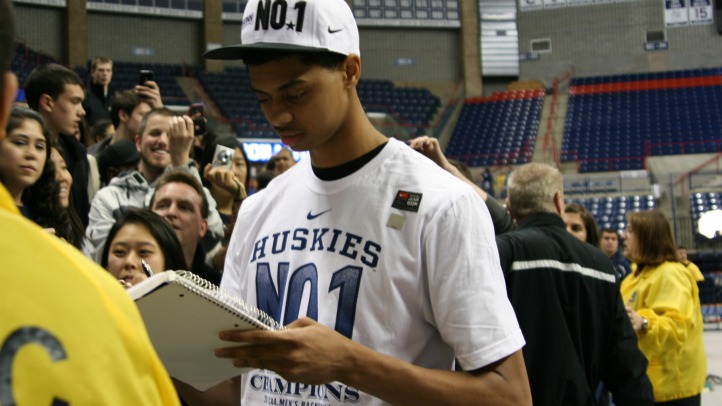 We mentioned Monday that Jeremy Lamb, in talking about his recent experiences with the Under-19 U.S. National Team, gave some thought to leaving UConn after his freshman season and entering the NBA Draft.

"I was definitely about to go, but people said I should stay so I felt like I needed another year," Lamb said. I talked to my parents a lot and Coach told me he thought I needed another year."

Maybe one of the reasons Lamb decided to return to Storrs was because Jim Calhoun, would be around to coach for at least another season. Calhoun, 69, remains mum on his coaching future, saying he'll make a decision sometime this summer. But if his actions are any indication of his intentions, all signs are that he'll return to the bench this fall.

Calhoun has been heavily involved in recruiting, and shortly after freshman DeAndre Daniels committed to the Huskies last month, he told SNY.tv that, "[Calhoun said] I don't have to worry about him not being there. He said he'll be there."

And Lamb seems to feel the same way. In an interview with ESPN, Lamb said he and his teammates have a sense that Calhoun isn't going anywhere just yet.

"We don't think it will be this year," Lamb said. "Because we can make another run next year."

And now, after a a memorable freshman season that included clutch performances the final two months of the season and nearly every night in the conference and NCAA tournaments, Lamb is the heir apparent to Kemba Walker. If not in style, certainly as a leader. The national title run and his recent play with the U.S. National Team have Lamb feeling like he can carry the Huskies this season.

"It not only gives me confidence, but it gives our whole team confidence," Lamb said. "I got confidence in them. They got confidence in me. We went through a lot last year. It gives us confidence going into this year. We're going to lose a couple people, but for the most part, we'll all be back.

"Everybody knows they just have to step up. After we won, we celebrated a little but then everybody got back to work. We have to pick up the slack because we're losing a big scorer, a big energy guy and a big defensive player. Everybody has to play their part."

And that includes Calhoun, who we can't imagine won't be coaching this fall.