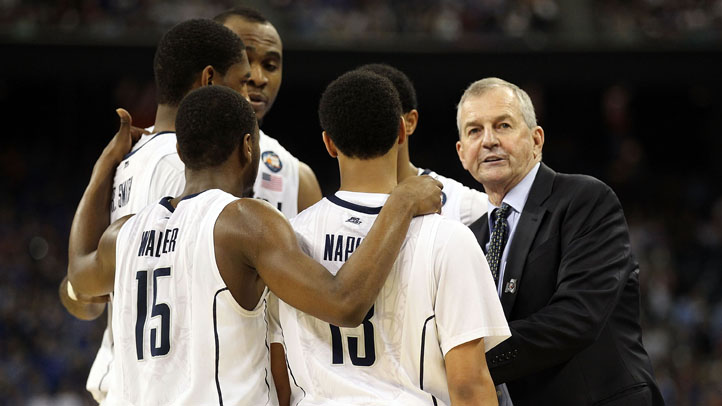 Today's the day the NCAA "officially" announces that the UConn men's basketball team will lose two scholarships for academic underperformance as determined by Academic Progress Rate scores. At this point in the proceedings it's a formality. Rumors of the punishment leaked last Friday, and Jim Calhoun and the university had to have an inkling of looming sanctions for some time now.

The Hartford Courant's Mike Anthony thinks that the Huskies can remain competitive with just 10 scholarships, but -- and we've mentioned this before -- there's virtually no margin for error.

"This is manageable, particularly with eight returning players from a team that won 32 games, one incoming freshman and still a spot for one more recruit," Anthony writes. "But if the academic trends reflected in the APR report continue, the situation could become debilitating. If a team's four-year score falls under 900 for a second year in a row, additional scholarship losses and restrictions on practice time are possible. If the score is below 900 for a third consecutive year, there is a postseason ban. A fourth consecutive year under 900 calls for restricted Division I membership."

UConn's four-year APR average was 893, hence the two-scholarship penalty. Last year, the four-year average was 930, just five points above the threshold to avoid NCAA sanctions.

As coaches and players are fond of saying: it is what it is. If history is any guide, Calhoun will first be defiant (he has already blamed the low scores on players leaving UConn at a higher rate than other programs), then he will apologize (as he did after the NCAA penalized the Huskies in February for recruiting violations), followed by everyone getting on with their lives.

Plus, it's not like we're talking about the SMU football team from the late '80s here; the program hasn't been blown up and forced to start from scratch. UConn are defending national champs, lost just one starter (albeit the most important starter in college basketball a season ago), and return a bench full of young, promising players.

Yes, sixth man Jamal Coombs-McDaniel is transferring but that's not necessarily a bad thing. He and Calhoun often butted heads. At best it was a distraction, at worse it could eventually divide a team. If Coombs-McDaniel wants more playing time, it's his right to pursue that dream, even if it means leaving Storrs.
For the Huskies, Illinois' Mr. Basketball, Ryan Boatright, is an incoming freshman and he will be asked to contribute from Day 1. And now, with Coombs-McDaniel's departure, UConn can use his scholarship -- the only remaining scholarship for 2011-2012 -- to find a player that best fits their needs. Whether it's an inside presence or another outside threat (let's be honest, it's going to take more than one person to replace Kemba Walker), it will be someone more amenable to the idea of coming off the bench.

Given the Huskies' situation -- defending champs, backs against the wall, all while the NCAA keeps a watchful eye -- it will be more imperative than ever that everybody on the team, from coaches to players to support staff, is on the same page. If anyone can motivate the troops based on the doubts of the general public (perceived or otherwise), it's Calhoun. Now the university just has to make sure he doesn't retire.