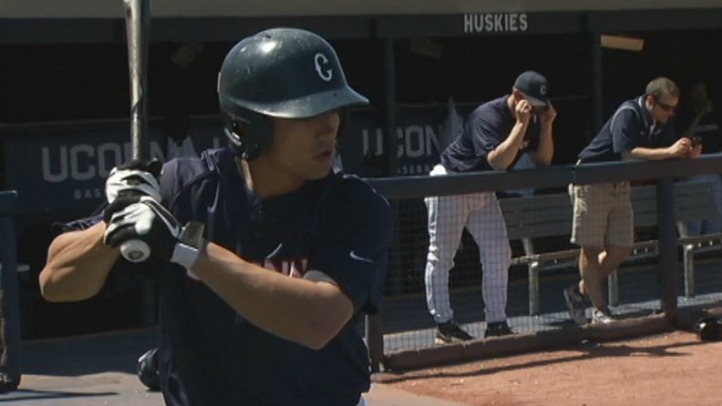 Forty years after taking his father, Lee Mazzilli, UConn second baseman LJ Mazzilli was selected by the Mets in the fourth round of Friday's MLB Draft. The elder Mazzilli was a first-round pick out of Brooklyn while LJ went in the fourth round. And not surprisingly, he was ecstatic to learn the news.

"I'm so excited to be able to have the opportunity that my dad had 40 years ago," the 22-year-old LJ said during a conference call, according to the Associated Press. "I'm looking forward to making my own name out there and carrying my last name with a lot of pride." Mazzilli, a senior, was UConn's best player this season. He hit .354 with 51 RBI, 29 stolen bases and played a big role in the Huskies' resurgence from mid-year also-ran to an end-of-season hot streak that led to a Big East title and an NCAA Regional berth.

"He's been on our radar for a long time," Mets Vice President of Player Development Paul DePodesta said. "He continued to improve from last year to this year and he had a terrific year."

LJ added: "We had an idea the Mets were looking to take me in the fourth round," he said via Newsday. As soon as we heard 'Mets re-draft' and my name was called, me and my dad just hugged instantly. It was an amazing moment for us and our family . . . I'm excited to try to bring another Mazzilli to the Mets."

Mazzilli returned to Storrs for his senior season after being selected by the Twins in the ninth round of the 2012 draft. Part of the thinking was to get one more shot at helping the Huskies, but it was also an opportunity to hone his skills for an eventual move to the next level.

"It was a tough decision to go back to school but the way I think I improved is some characteristics off the field that really helped me on the field," LJ said. "Approaching the game with more enthusiasm, trying to take more leadership roles with the team, going out on the field and trusting my abilities and trying to pull the most out of myself by having fun and letting it all out."

Lee Mazzilli played 14 seasons in the Major Leagues with the Mets, Rangers, Yankees, Pirates and Blue Jays. After his career, he was both a manager (Orioles) and a coach (Yankees), and is now a special advisor (Yankees). Needless to say, he's very excited about the latest addition to the Mets' family.

"A dad cannot be happier to be part of two great organizations in this city of New York and growing up in this city," he said. "It's a wonderful feeling."