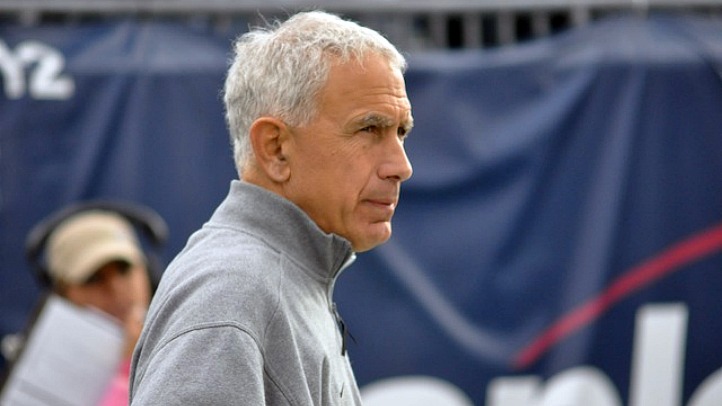 ESPN.com's Big East blog is in full-on offseason mode, which means take a look back at the 2012 football season. And since we cover the Huskies here at Dog House, guess which team we're interested in?

We're all familiar with the back-to-back 5-7 records, and offensive coordinator George DeLeone being reassigned to a job that takes him off play-calling duty. And the defense, which has been a strong point in recent years, will lose a lot of players to graduation, not to mention defensive coordinator Don Brown to Boston College. ESPN.com's Matt Fortuna passed out grades in his 2012 Report Card. Here are the high(low)lights:
Offense: Scoring offense? Last in the Big East (17.75 ppg) and 118th in the nation. Total offense? Still last in the conference (318.33 ypg), though up to 110th nationally. The Huskies were last in the Big East and 117th nationally in rushing offense (82.92 ypg) as well. They were actually fifth in the conference and 65th nationally in passing offense (230.42 ypg), but their 18 interceptions made them tied for 110th nationally (though just sixth in the Big East). They gave up 2.75 sacks per game, next to last in the Big East and 100th nationally. The most telling stat of all? Following a Week 5 Sept. 29 win over Buffalo, UConn did not score a second-half touchdown until its penultimate game of the season, Nov. 24 at Louisville -- and even that touchdown did not come until the second overtime.
Fortuna's grade: D. And, really, it's hard to disagree with that -- unless you think it's too high.
The Huskies topped the conference in total defense (309.92 ypg), good for ninth nationally, and they were third in the conference in scoring defense (19.83 ppg), good for 19th nationally. Rushing D? Second among its conference brethren (97.92 ypg), seventh nationally. UConn held eight teams to 20 or fewer points.
Defensive grade: A.

The worst part: for two seasons now the defense's effort has been wasted on a punchless offense. Realistically, you'd have to think that Paul Pasqualoni will have one more year to right the ship or the Huskies could be looking for a new head coach in a year's time.