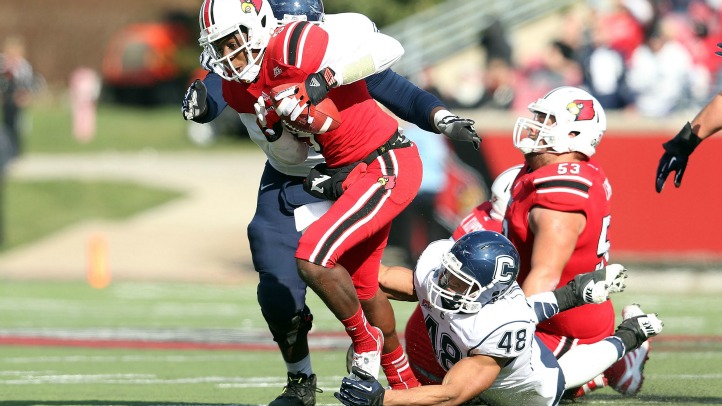 The Huskies face arguably their toughest test of the season Friday night when they try to win their first game of the season against No. 20 Louisville. And while Michigan was a formidable opponent, the Cardinals have one of the best quarterbacks in the nation: Teddy Bridgewater.

Which means that a struggling UConn defense will be tasked with stopping him long enough for a floundering UConn offense to put some points on the board. Even on paper this seems impossible.

Even if such concerns keep him up at night, interim coach T.J. Weist wasn't quite that dire in his public assessment of the situation.

"I'm impressed with his decision-making and really the overall package with [Bridgewater]," Weist said, via the Hartford Courant. "It's hard to find a weakness with him because when you watch him play he's sharp, he's athletic, he throws the ball well, he's very accurate. You see him make good decisions.

"As a coach you see things a little bit differently because you understand the progression he goes through, you understand the decisions he makes based on different fronts and different coverages and different looks, and you see how he handles the offense. He's a good quarterback leader."

Specifically, Bridgewater is a Heisman candidate who has completed 179 of 243 passes for 2,557 yards with 23 touchdowns and two interceptions. He's legit, which means that a Huskies defense that allowed Cincy's Brendon Kay and UCF's Blake Bortles to throw four touchdowns apiece could be in for a very long night.

"We know we need to get better on the quarterback," UConn senior Tim Willman told the Courant. "We're working on different twists, pass rushes; we're always working on that kind of stuff to get there. ...

"It's on the players individually. We've got to generate better rush, better pressure. It's not the front; it's the whole defense; better coverage, better pass rush, win the one-on-one matchups. We have to do all of that."

UConn overcame long odds and beat Louisville a year ago. But they also had the conference's best defense. Now, Bridgewater is a that much better and, frankly, the Huskies -- on both sides of the ball -- are that much worse.