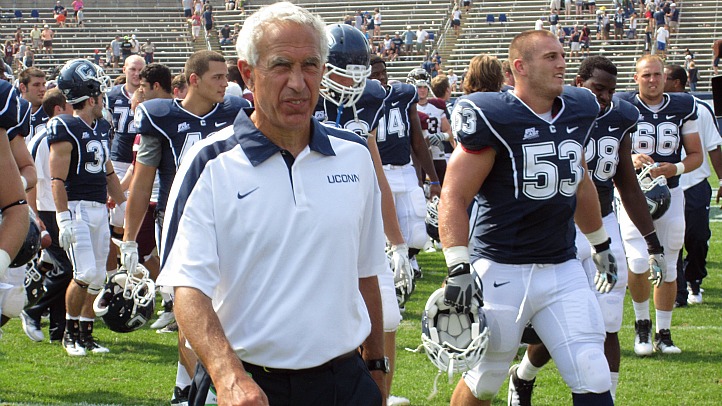 A year ago the Huskies would've found a way to lose this game. This time, with that stifling defense and an offense that continues to improve, UConn toughed it out down the stretch, staved off a late Maryland drive to win and left College Park 2-1.

Perhaps the emotions surrounding the Edsall Bowl played a part but the bottom line is this: the Huskies outplayed the Terrapins on the road and found a way to win.

"I went up to [Edsall] after the game and told him I love him," UConn linebacker Sio Moore told the Baltimore Sun after game. "He is one of those guys that really saw something in me when I didn't know I had anything in me myself, so I really appreciate him giving me the chance."

And that's the dichotomy with Edsall, who has always had a keen eye for unearthing talent but sometimes lacked the social nuances necessary for the job. But as coach Paul Pasqualoni preached in the week leading up to the matchup, this game wasn't about one person but about a football team coming together and finding a way to win.

"Our guys are pretty grounded, they're pretty level-headed," Pasqualoni said. "I think they handled adversity very well last week. They handled victory very well this week. I think they know it's one game."

And that's the takeaway: despite all the hype, this was just one game, it counts just the same in the standings and the Huskies aren't magically crowned national champs for the accomplishment. That said, it's a huge victory for a program Edsall clearly thought wasn't as good as the one he was leaving for.

"Coach always tells us that there is going to be adversity, but we stepped up and played throughout," defensive tackle Ryan Wirth said according to the Associated Press. "We got the "W,' and that's all that matters."

Edsall, who was emotional during his postgame press conference, talked about his former players.

"We went through the week and conducted business as usual," he said. "When the game was over, you go over and say hello to the people you have worked with, any people you have coached. You wish them well, and you tell them that if there is anything you can do for them after they graduate for them to give you a call."

Nick Williams got things started by taking a first quarter punt to the house to give the Huskies a 7-0 lead. Pasqualoni pointed to that play as setting the tone for the afternoon.

"It sparked us," he said afterwards. "We really, really needed it; just a great effort on his part. I'm not sure we blocked everybody. He made a few people miss. Nick can do that. That was a really key play. The bench was fired up."

On defense, Yawin Smallwood continues to play like one of the conferences linebackers. He had 14 tackles against Maryland, including three sacks, and he also forced a fumble.

"They brought the pressure," Edsall admitted. "It was a combination of certain things. We have to get the ball out of our hands a little bit quicker. We have to sustain blocks a little bit longer. They had a game plan where they wanted to put a lot of pressure on our young quarterback. We have to do a better job to pick those pressures up."

So yeah, it's just a game. Then again, it's clearly more than that. Hopefully, the Huskies will take a day to enjoy it -- whether it's because of the Edsall connection, or the victory over an opponent in a conference that spurned UConn, or because this season feels much different than 2011.

Then UConn can get back to work because next Saturday it starts all over again; they're headed to Kalamazoo to face Western Michigan.